ArcSafety™ - AC Arc Flash
Arc Flash Analysis
ETAP AC Arc Flash Analysis software brings you new and enhanced capabilities which allow for faster and easier assessment of arc flash hazards and incident energy analysis. Identify and analyze high risk arc flash areas in your electrical power system with greater flexibility by simulating and evaluating various mitigation methods in your arc flash study.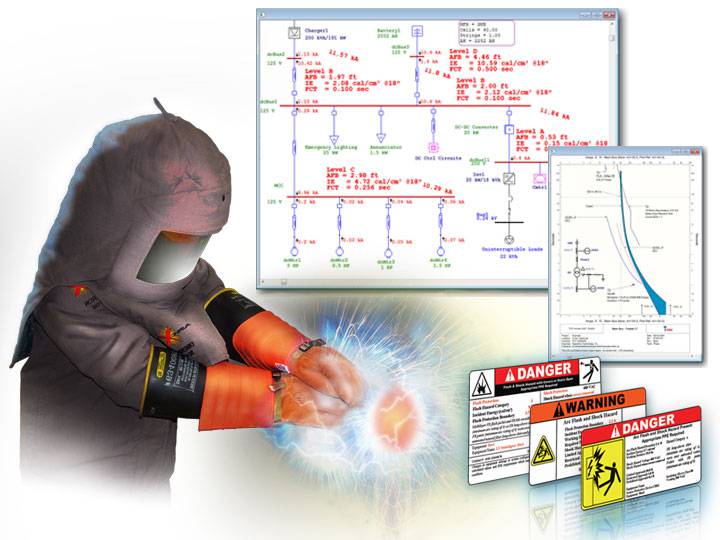 The Arc Flash Analysis program is a completely integrated module that solves multiple scenarios to determine worst-case arc flash energy levels. The Arc Flash calculation software module also produces professional reports and high quality arc flash hazard labels at a press of a button.
The Arc Flash Analysis module also includes comprehensive single phase and three phase arc flash calculations as well as an invaluable arc flash analyzer tool to summarize results from the arc flash study.
DC Arc Flash and ArcFault are offered as a separate modules.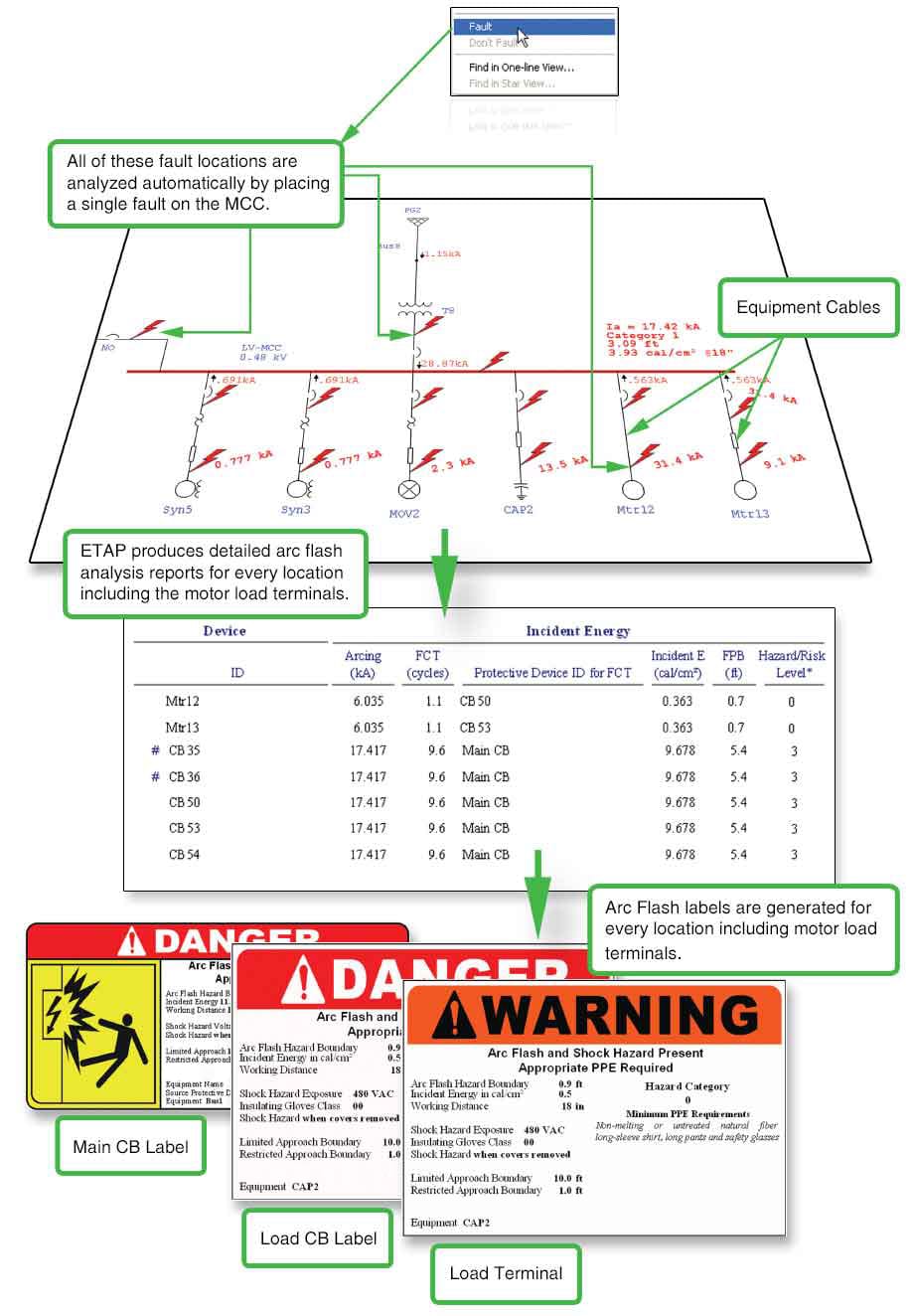 Arc Flash Software Capabilities
Current Limiting Fuse (CLF) modeling
Automatic consideration of generator AC decay & decrement curve during arc flash conditions
AC motor arc flash current decay handling
Time varying fault clearing time calculation & short circuit current decay
C-area plots displayed on TCCs (constant arc-flash incident energy area/boundary plots)
Automatic or user-defined source protective device search algorithm option to simulate worse arc flash hazard conditions. Relay actions include 49, 50, 51, 67, 79, 87.
Arc flash calculation for electrical power systems including 3-phase & 1-phase panel / UPS systems
Extended search past the point of multiple upstream source
Perform arc flash analysis in Radial & multiple source systems
The arc flash analysis software allows the simulation of differential relays, maintenance mode switches, arc flash and light & pressure sensors
Arc Flash software simulates the effect of Zone Selective Interlock Protection (ZSIP) in your arc flash study
Alerts for personal protective equipment (PPE) ATPV rating violations (maximum allowable PPE arc rating alerts)
Comprehensive protective device library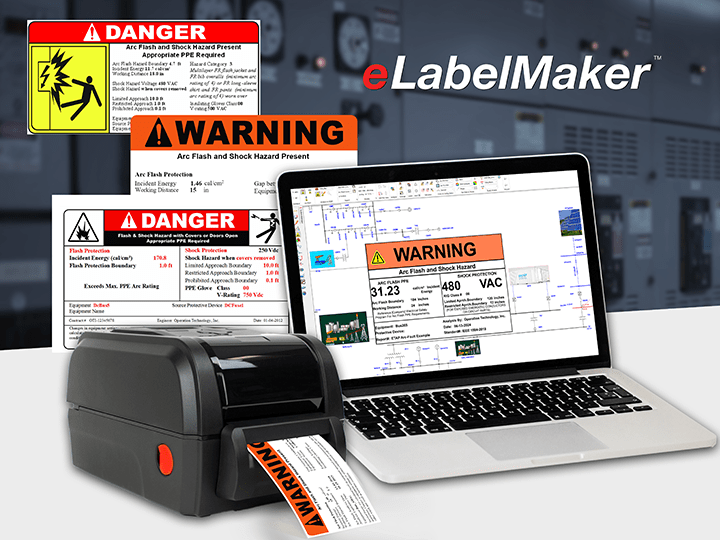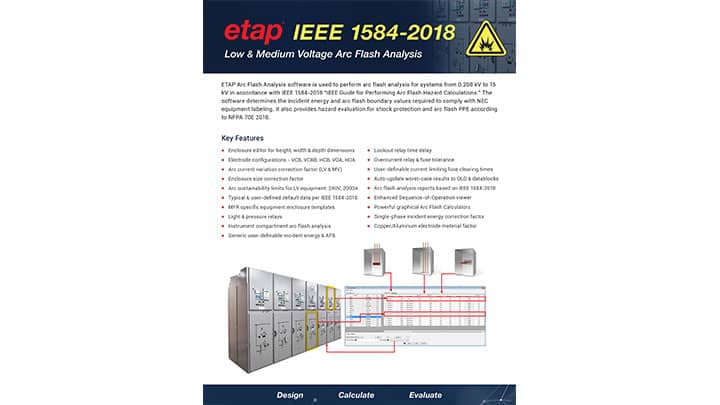 ETAP Arc Flash IEEE 1584-2018
ETAP Arc Flash Analysis software is used to perform arc flash analysis for systems from 0.208 kV to 15 kV in accordance with IEEE 1584-2018 "IEEE Guide for Performing Arc Flash Hazard Calculations." The software determines the incident energy and arc flash boundary values required to comply with NEC equipment labeling. It also provides hazard evaluation for shock protection and arc flash PPE according to NFPA 70E 2018.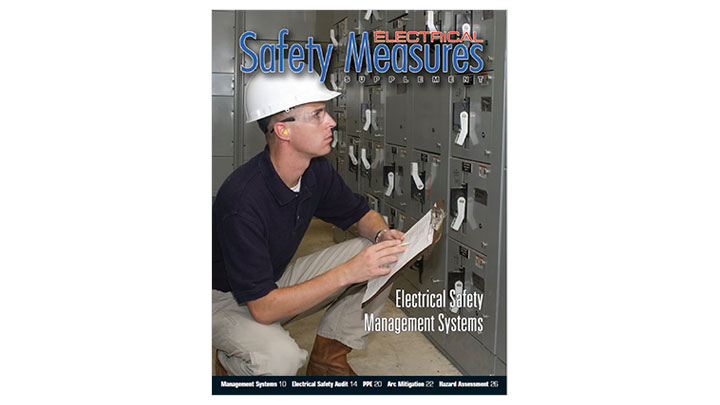 Hazards of Single-Phase Arc Flash
This article presents different methods for assessing the hazards of high- and low-voltage 1-phase equipment. One common question being asked is how to determine the hazard level associated with 1-Phase (1-P) Arc Flash (AF) incidents. There is very little information about this type of circuit in the available guidelines such as CSA Z462-08, NFPA 70E 2009 & IEEE 1584 2002. If the right risk level is not properly determined, we run the risk of over-protecting or under-protecting personnel that are working on this type of electrical system. The objective of this article is to present different methods for assessing the hazards of high and low voltage 1-P equipment, and to justify the results taking into consideration the behavior of arc faults at different voltage levels.