Intelligent Electrical Single-Line Diagram
Model & Design Faster Collaborate & Manage Quicker Operate & Automate Intelligently
The simplest yet most powerful way to design, manage and operate
ETAP intelligent electrical single line diagram (iSLD) is a multi-layered one-line view of the digital-twin, that includes advanced functionality and awareness of the device's characteristics and system behavior. It is an active blueprint and the foundation of your digital transformation journey.
ETAP's iSLD is the ultimate user-interface to model, visualize, collaborate, and analyze electrical networks. It is designed to easily display analysis results, real-time system information and estimated data, to automate, validate, and manage AC & DC power network systems. The intelligent single-line diagram visualizes data in any combination of voltage, phase, frequency, measuring unit, and standard for any application and industry.
Transmission Network Single Line Diagram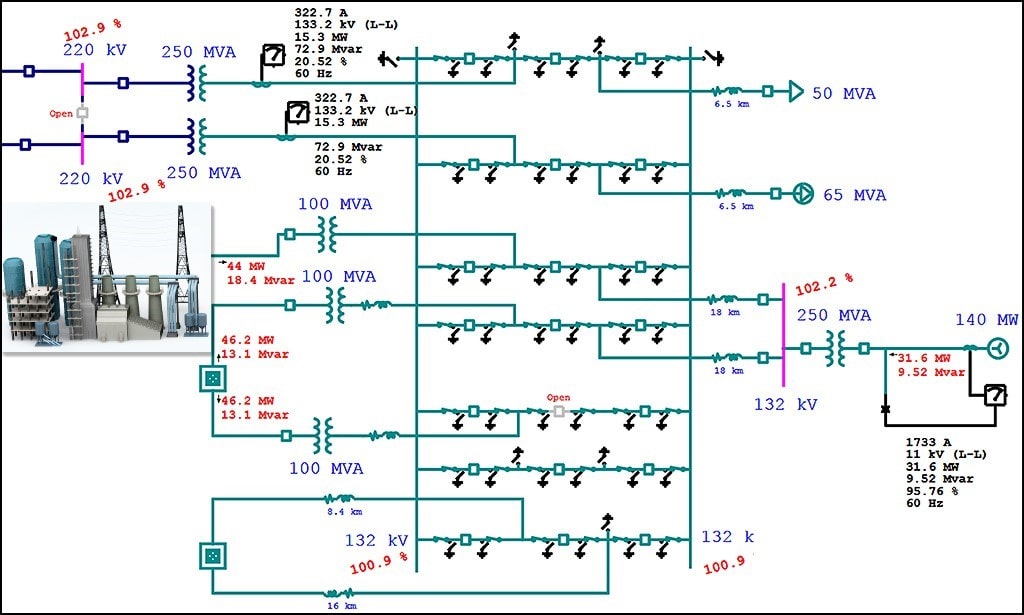 Transmission & Distribution Network Single Line Diagram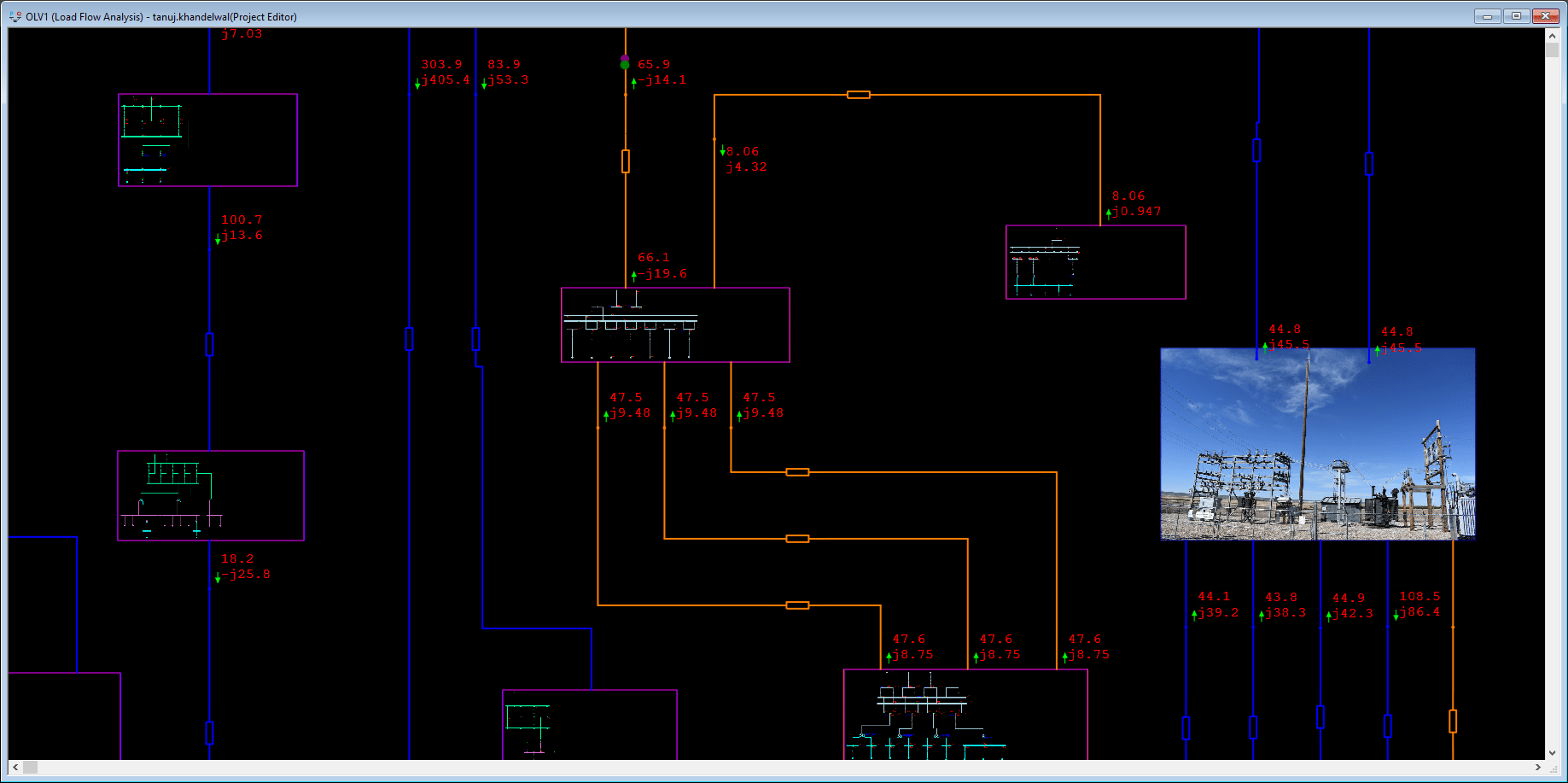 Live Plots with Network Single Line Diagram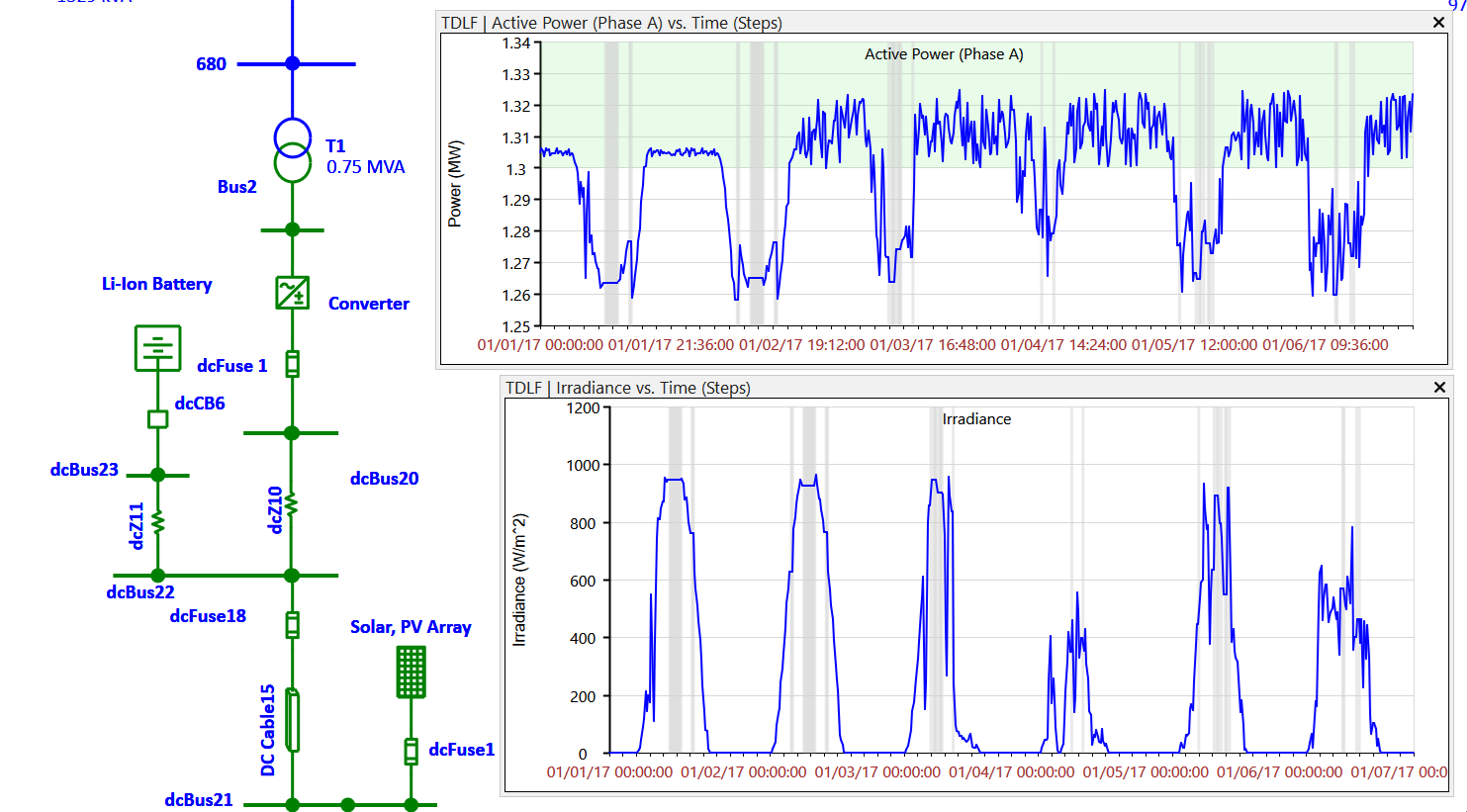 Railway Traction System One Line Diagram – eTraX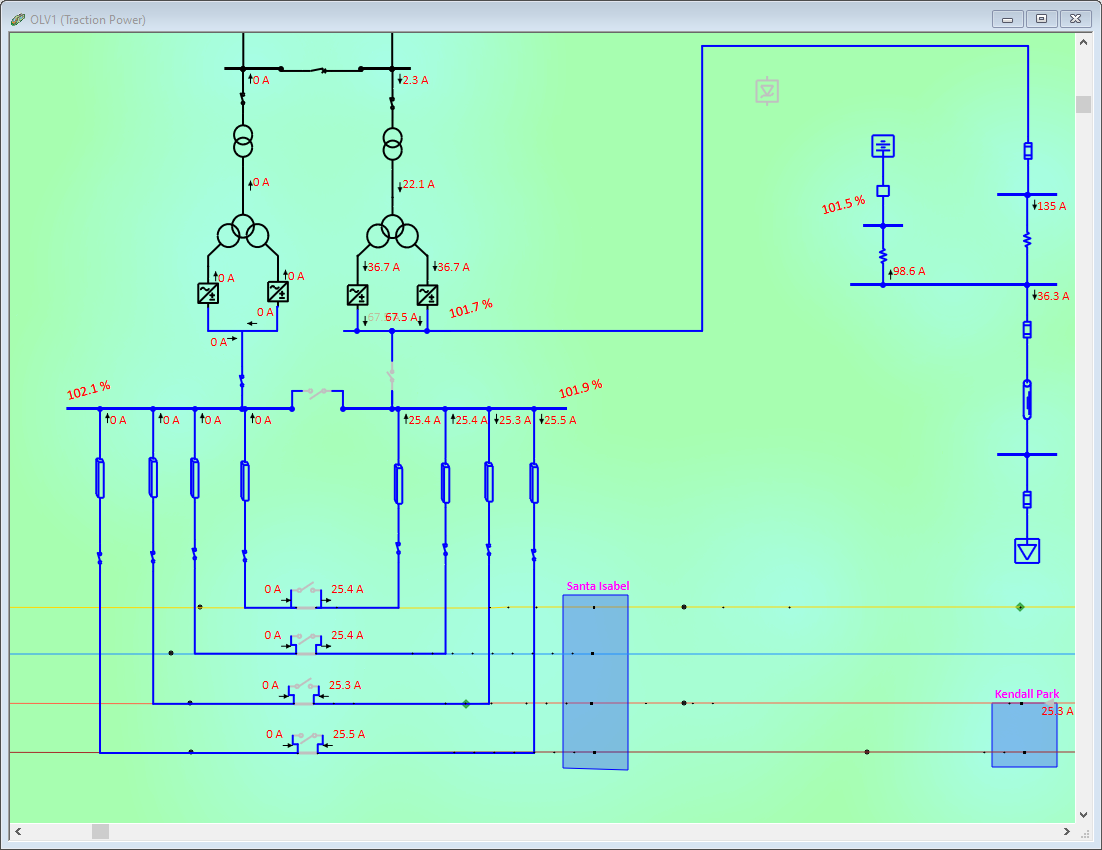 Distribution Network Single Line Diagram with Network Views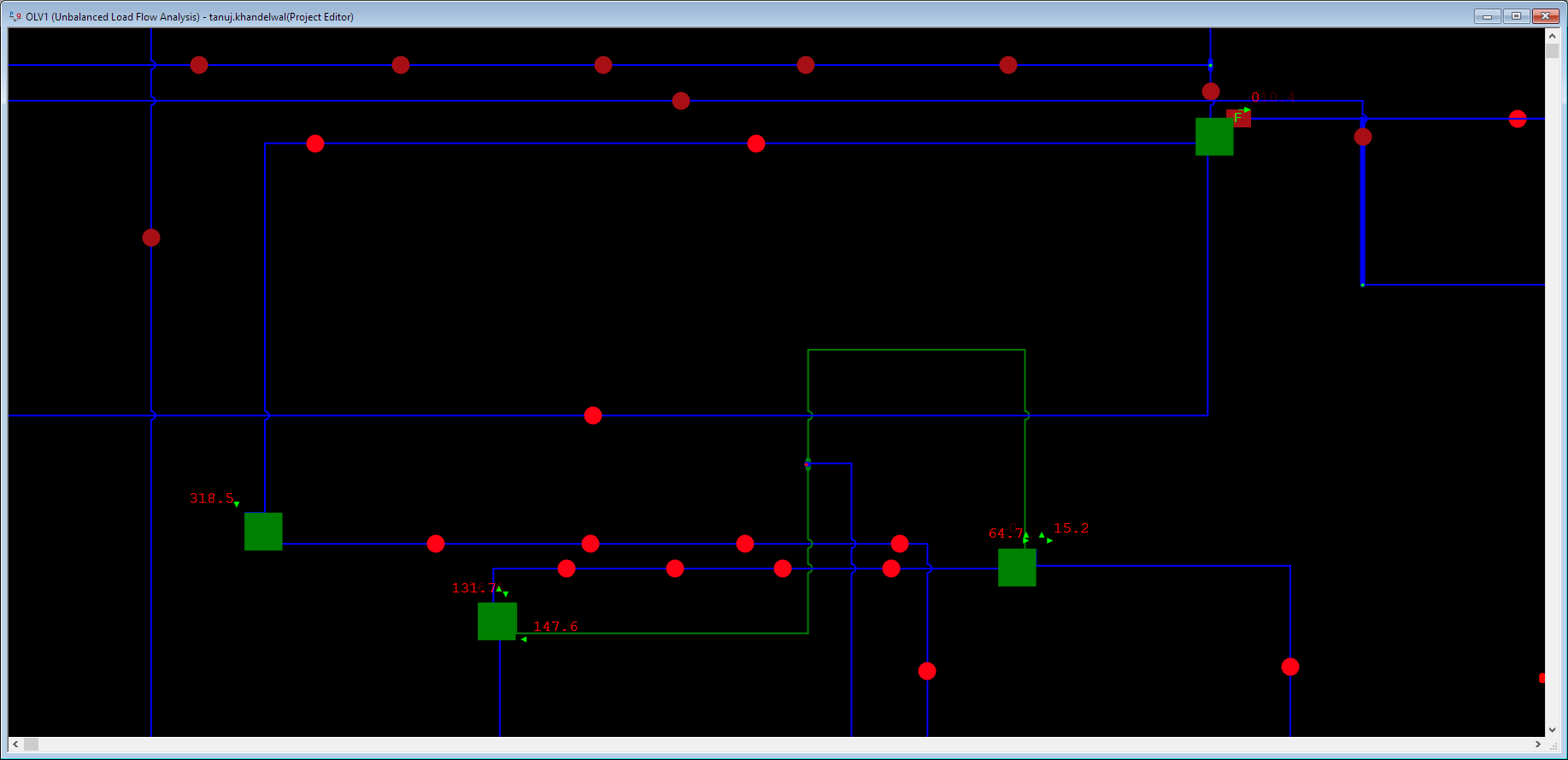 Renewable Energy Single Line Diagram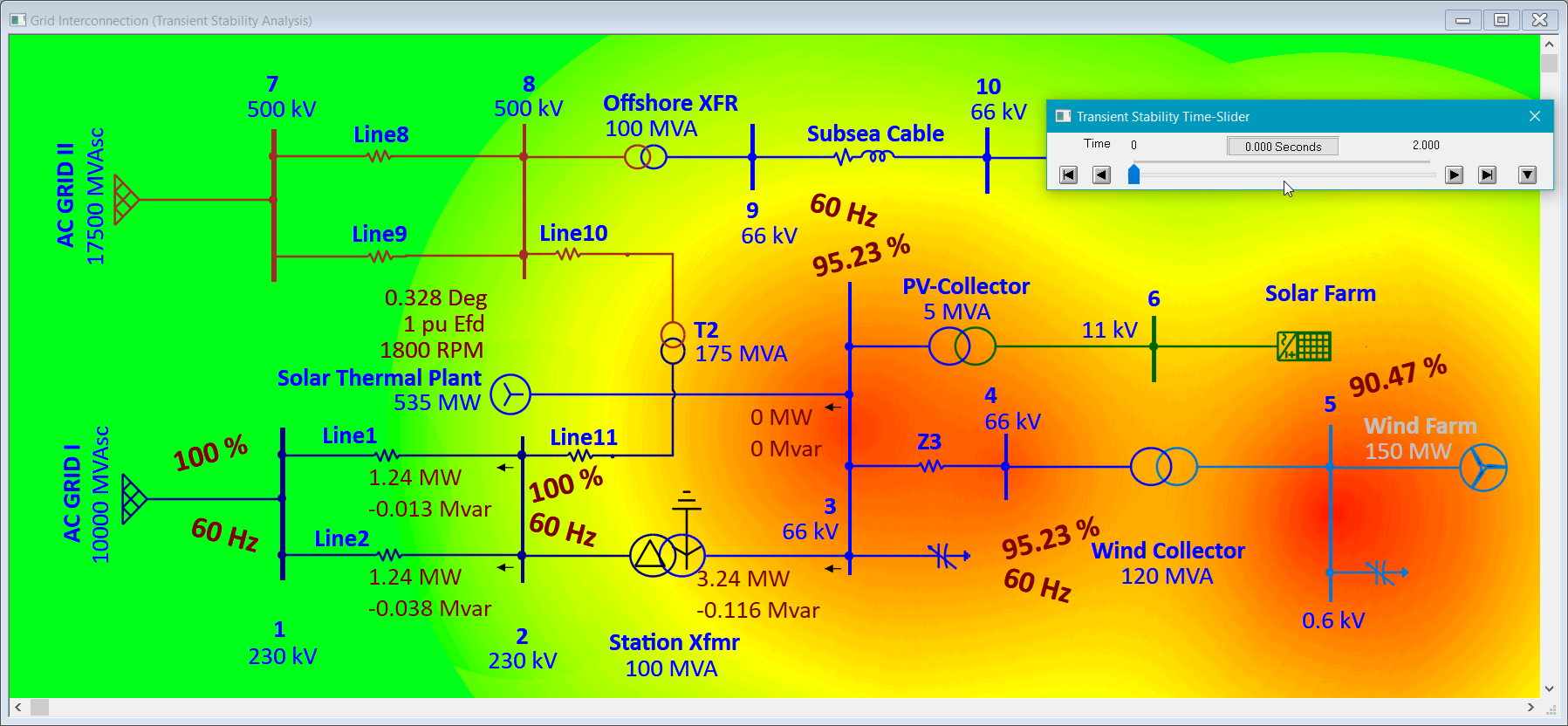 Generation System Single Line Diagram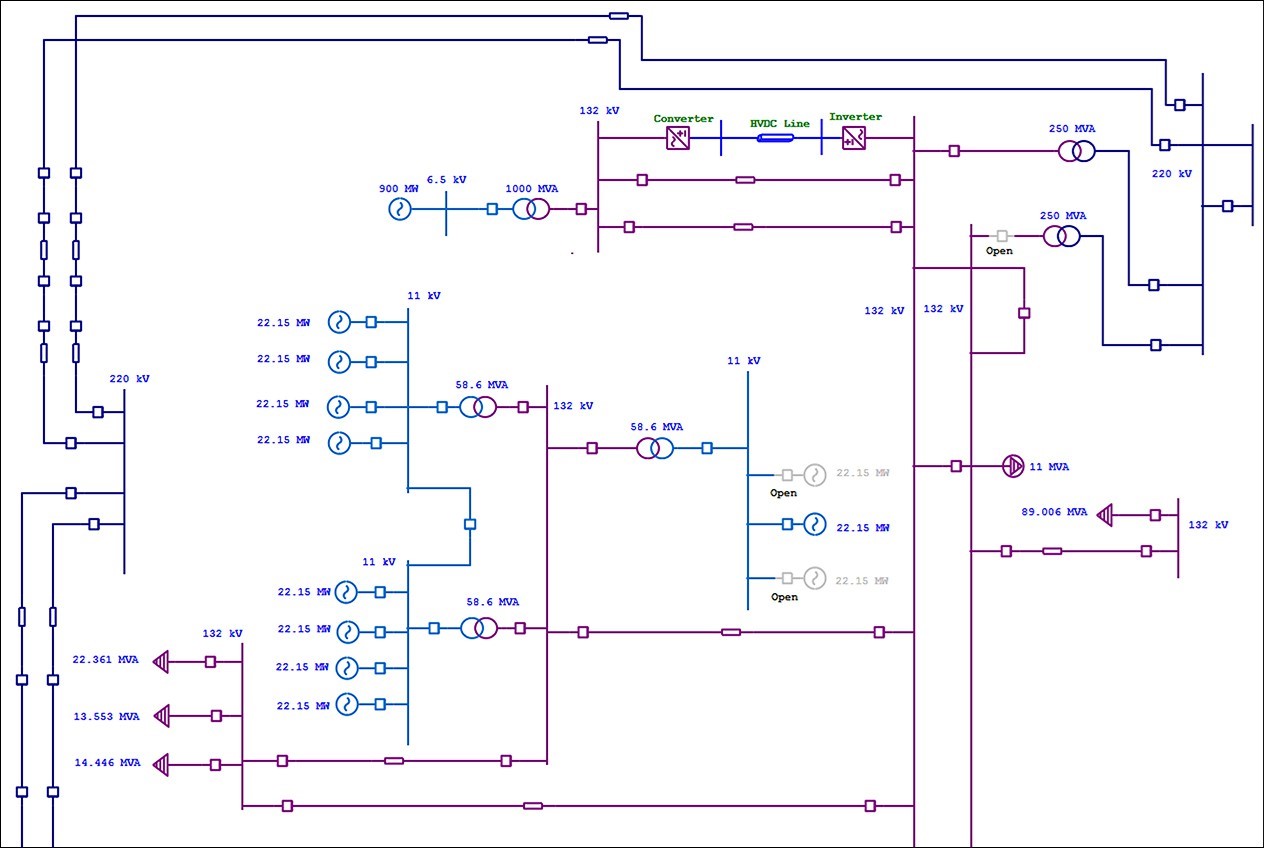 Substation Interconnection Single Line Diagram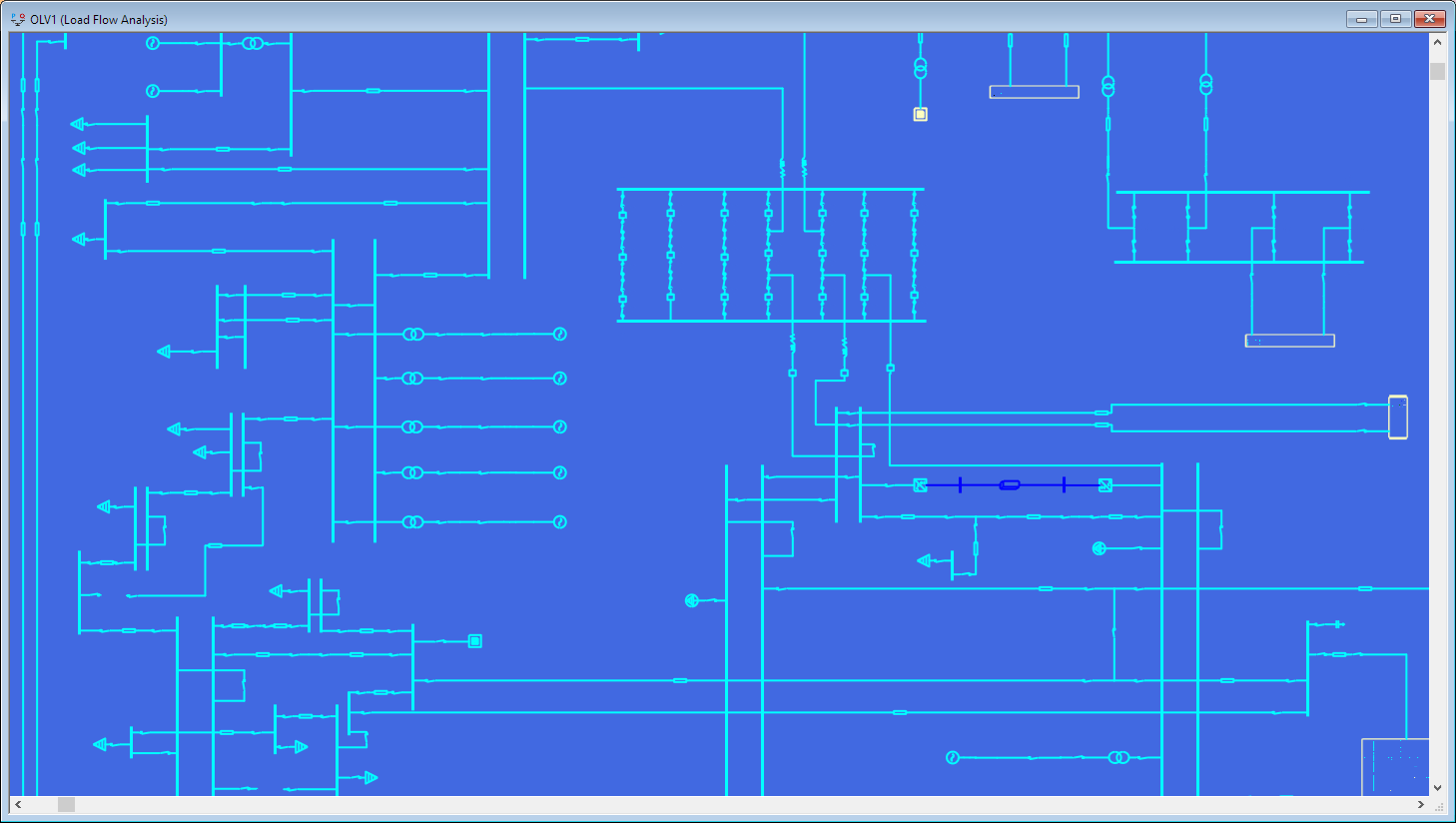 Empowering confident decision-making in an uncertain world
ETAP electrical single-line diagram integrates with all ETAP system views leveraging the ETAP Multi-Dimensional Digital Twin foundation enabling cross-domain functionality. ETAP electrical one-line diagram connects to a common data layer, unifying visualization across the entire ETAP digital ecosystem, enabling more accessible and efficient management of changes.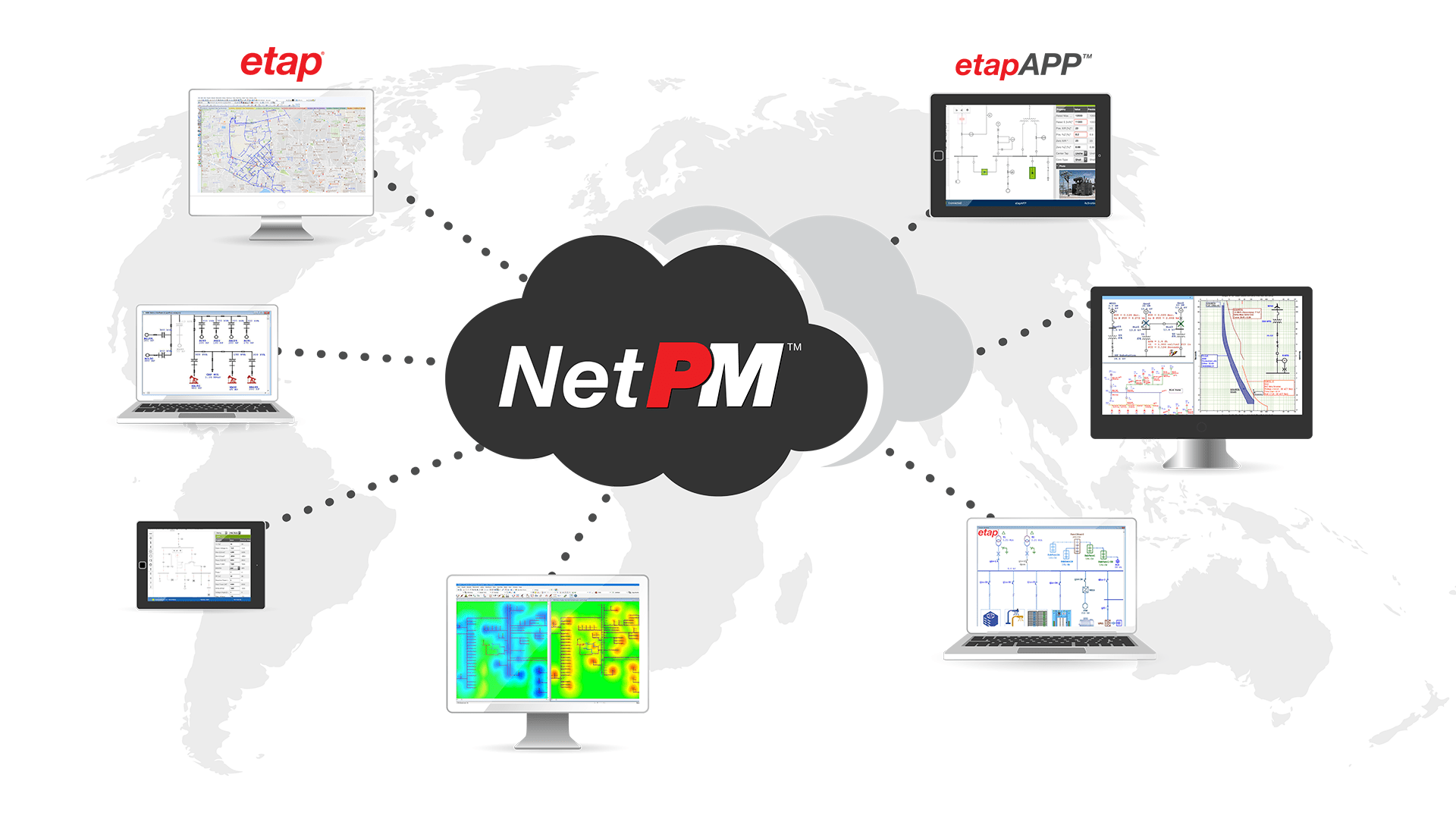 Design & review together, shorten modeling from weeks to days
ETAP NetPM™ offers a powerful time-saving solution for information transfer across the entire life cycle of the electrical network.
Manage ETAP Electrical Single-Line Diagram in a single Cloud location, supporting real-time and asynchronous operation with team management using NetPM™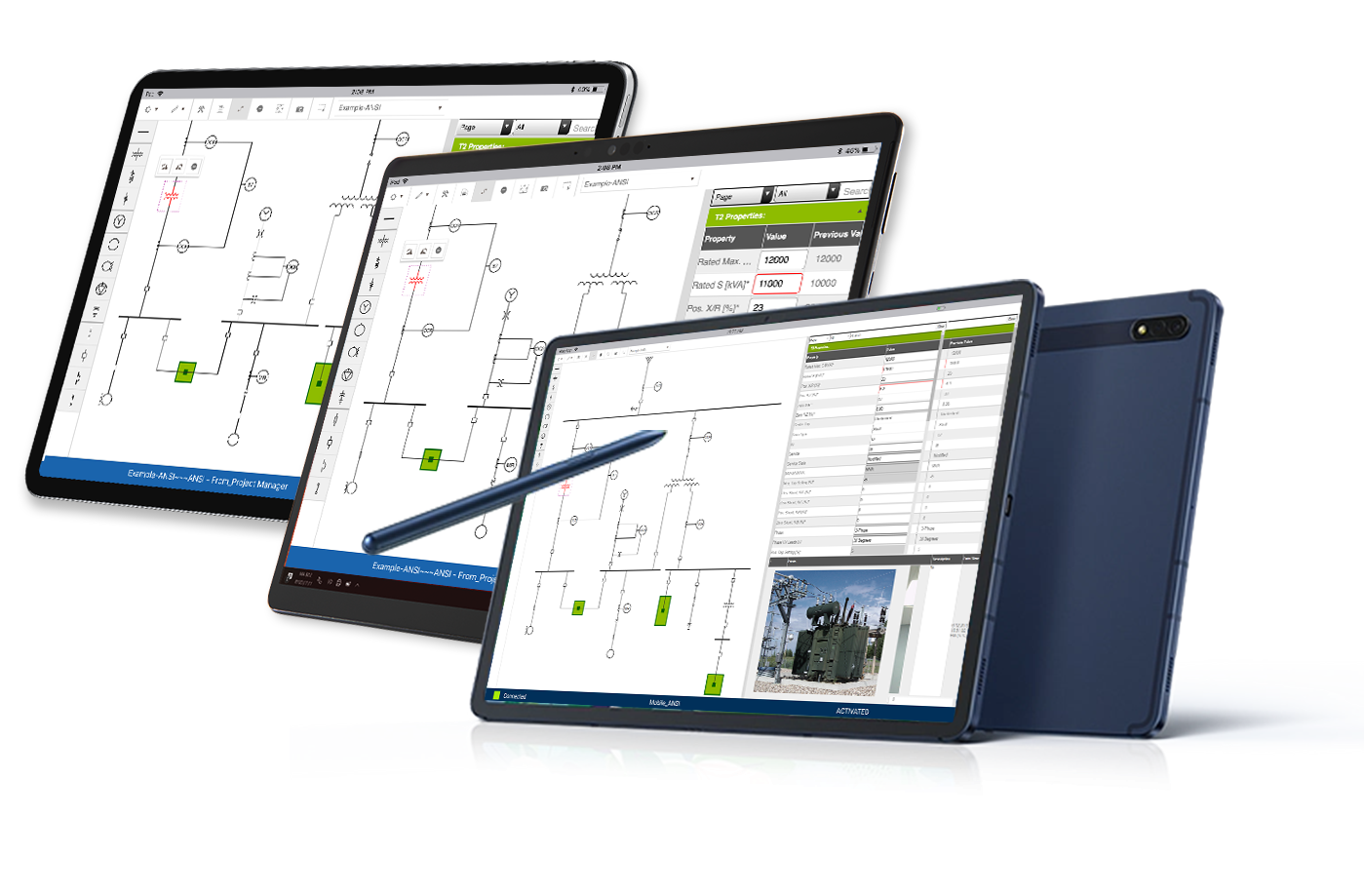 Mobile Field Data Collection & Synchronization
Increase accessibility to ETAP projects for data collection and verification with the updated version of etapAPP™, a tablet application made for field engineers.
Now available on Google Play Store for Android Platform
Key Features
Unified with Multi-Dimensional Database
Integrated with Digital-Twin views
Access Design & Operate Data & Controllers

Connectivity with Rules & Auto-layout saves time & eliminates guesswork

Maintain Multi-graphical deliverables in one database
Visualize Multi-Results, Data Blocks & Live Plots
Execute "what-if" studies using design, real-time operating, or historical data
Study wizards to execute design & operation scenarios for the past, present, and future system conditions

Real-time collaboration on the same single-line

Visualize & print engineering data
Collect data & synchronize single-line data from the field to your office

Automatically convert single-line data from legacy software and standard formats
Key Capabilities
Rapidly Develop Any Electrical Design
The intelligent One-Line Diagram takes the day-to-day system modeling and design tasks to a new level of speed, ease, and accuracy. With ETAP Single-Line Diagram, users can manage all aspects of their electrical digital twin during design and operations.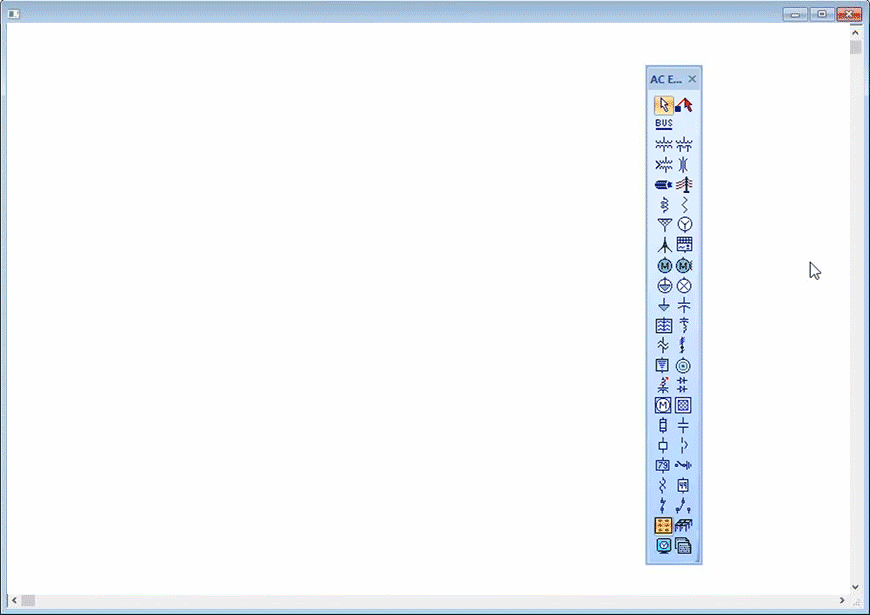 Auto-Build & Smart Alignment Tools
Auto-Build is an automated and powerful tool for creating and editing the one-line diagram. The rule-based design of Auto-Build can significantly reduce the time spent on creating a one-line diagram.
Automated creation of a single-line diagram without leaving the equipment toolbar
Quick & intuitive One-Line Diagram generation
Automatic spacing & alignment rules
No need to drag, drop, locate, and connect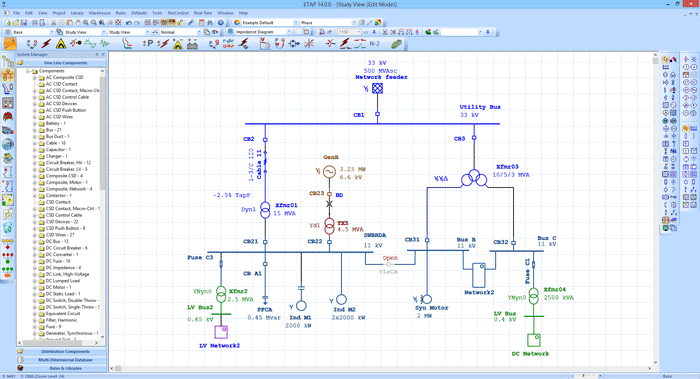 Theme, Layer & Result Management – Theme Manager
Set unlimited themes for individual or multiple single-line diagrams. Themes can be preset or user-configurable, enabling color-coding based on engineering properties and element connections.
Display faulted buses by symbol or color
Apply a theme to individual view or globally
Display color coding based on:

Phase
Voltage level
Area
Feeder
Grounding (Solid, Low-Z, High-Z, Ungrounded)
Earthing (TT, TN, IT, NEC)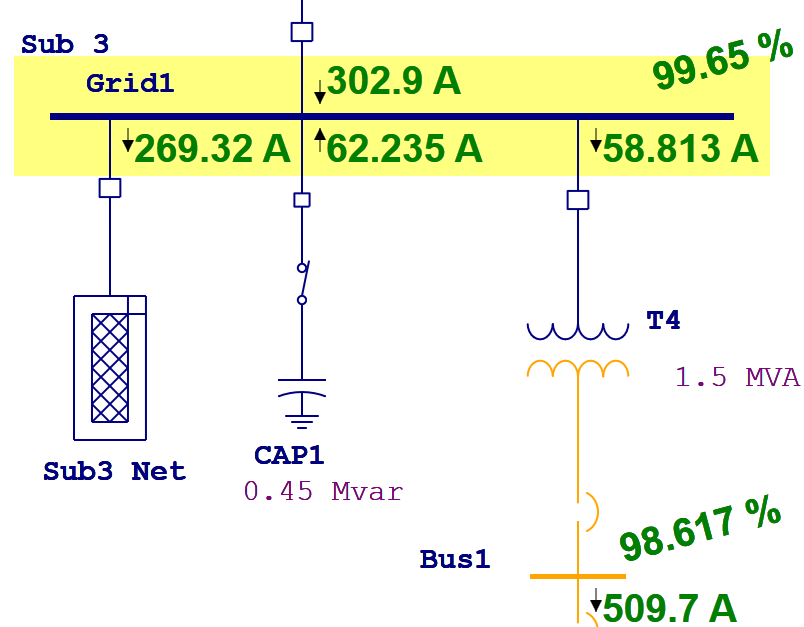 Auto-Range & Precision
Intelligent Data Formatting that may be displayed or hidden based on:
Zoom level
Equipment type
Equipment state
Info annotations
Study Results
Datablocks

­ Customizable result unit magnitude precision
­ Change result display precision per unit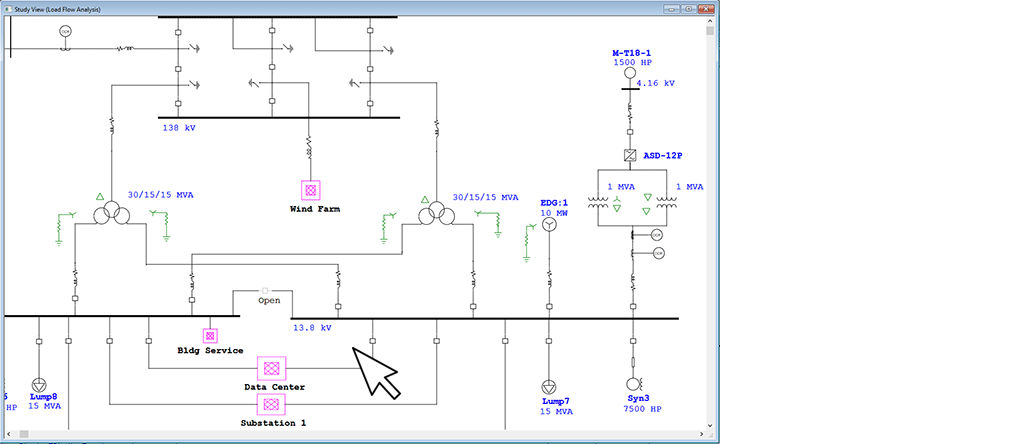 Hierarchical visualization using Composite Views – Networks & Motors
Composite Networks allow users to model and graphically divide the network into multi-nested views all in one project. Composite Motors combine motor control centers (MCC), loads, motors, and protective devices and represent it as a single element. These different views provide a more organized and straightforward appearance. Composite Networks can be nested with unlimited sub-networks, allowing for multiple layers in one project.
Customizable Views
Unlimited Composite Views
Unlimited Connections
User-defined Location & Sizing
User-defined Symbols, Thumbnails, Images
Visualize Properties & Results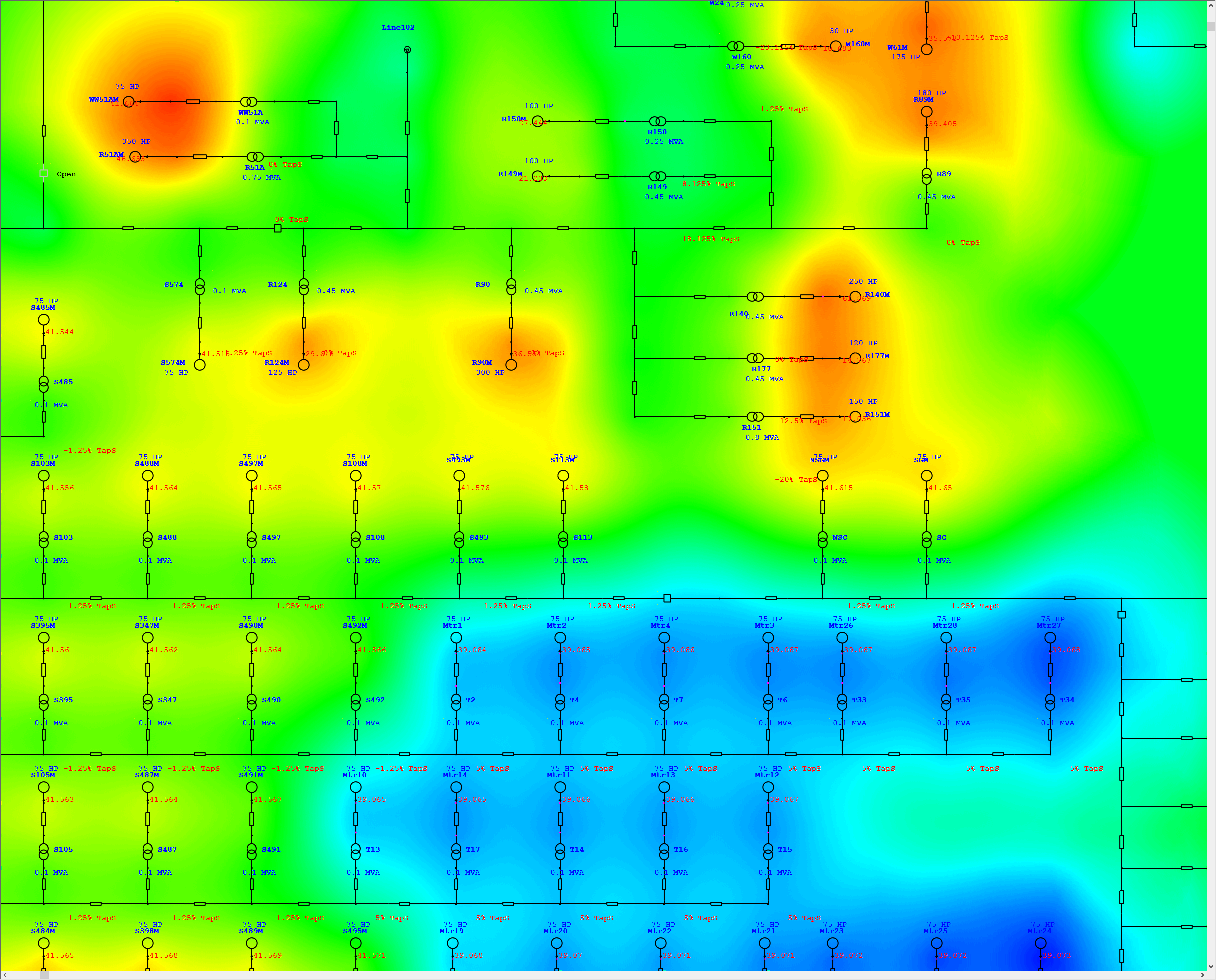 Color Contouring
Color contouring functionality allows the user to apply a preset or user-configurable color map to the one-line diagram. These maps are color-coded based on voltage or power flow magnitude providing an instant picture of normal and abnormal areas of the electrical or geospatial system, especially for extensive networks.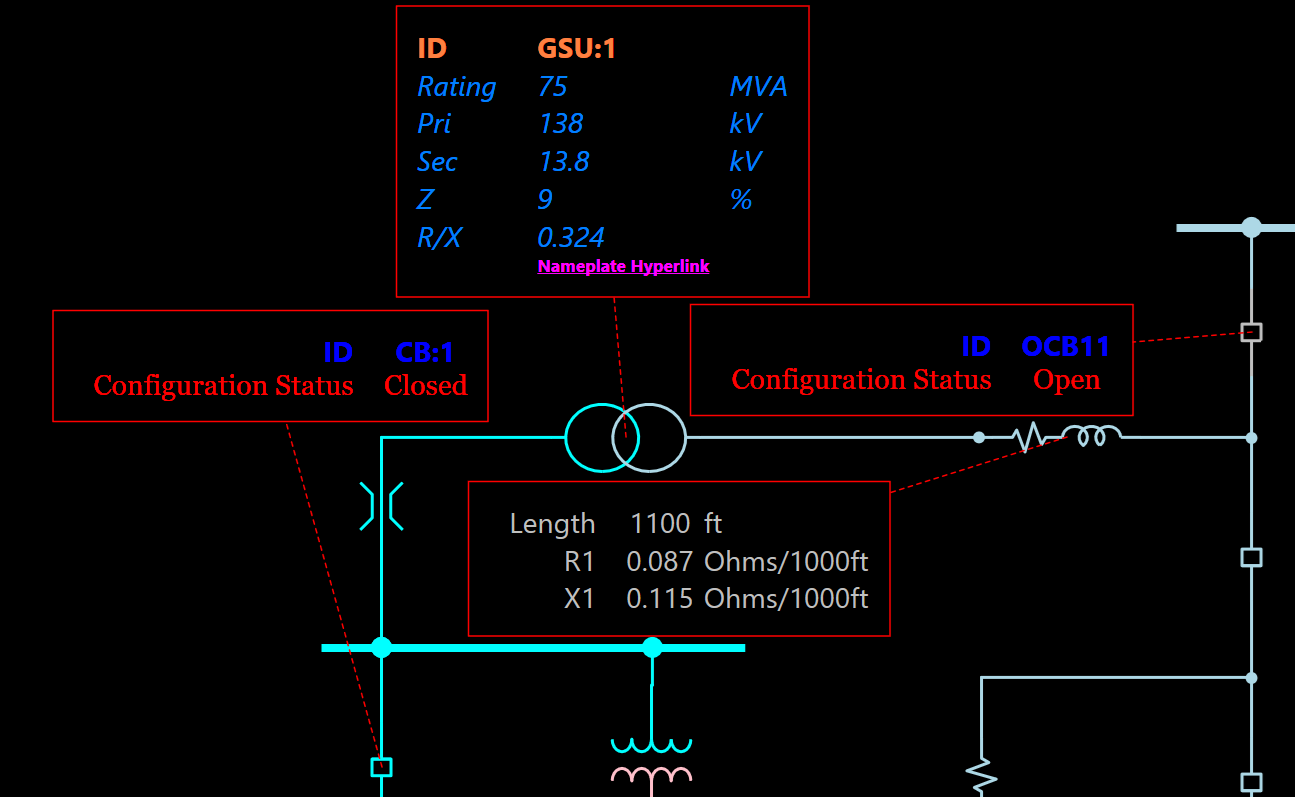 Engineering Data Display & Management - DataBlock
View device information such as input data and study results in a single Datablock directly on the one-line diagram. Datablocks may be applied from templates or user-customizable. Utilize one or more single-line diagrams to show, hide, arrange, and format according to the targeted information. Extend analysis capabilities with Datablocks by showing properties and results from different studies and within the same one-line diagram.
Customize input data & study results
Display results, tags, and/or properties
Define templates & share
Automatically apply-templates per device type
Instant preview of customized Datablock
Single or multiple study results including Load Flow, Short Circuit, Arc Flash, Motor Starting, and more
Auto-adjusting protective device settings
Independent tooltip & display
Duplicate Datablocks across nested views
Adjust & customize Datablock look & feel such as text color, line style, fill, etc.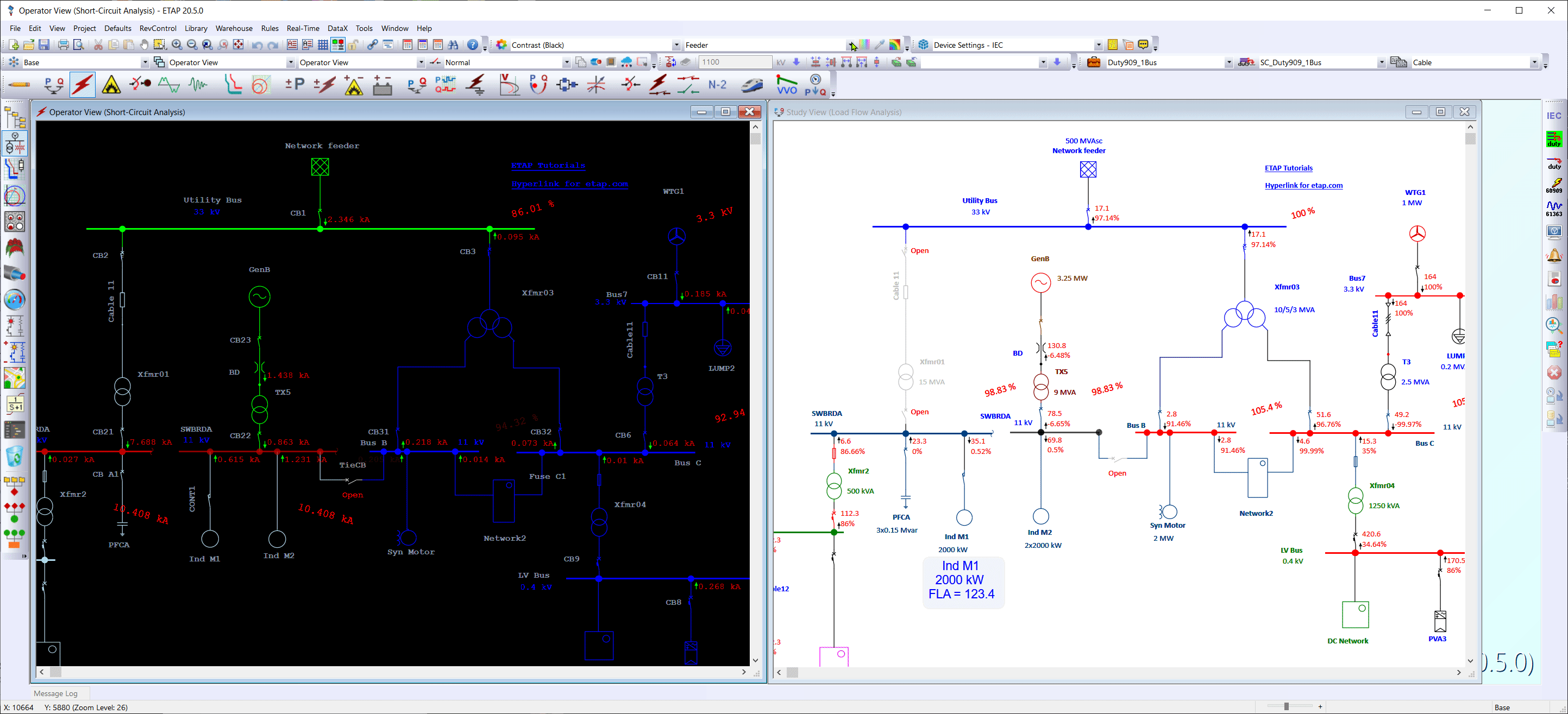 Circuit Continuity & Network Topology Processing
Dynamic continuity check shows de-energized devices as "semi-transparent" or in a user-preferred manner. Use circuit continuity as a foundation for network topology processing and graphically display the effect of system configuration changes made by the user or automatically through the analysis.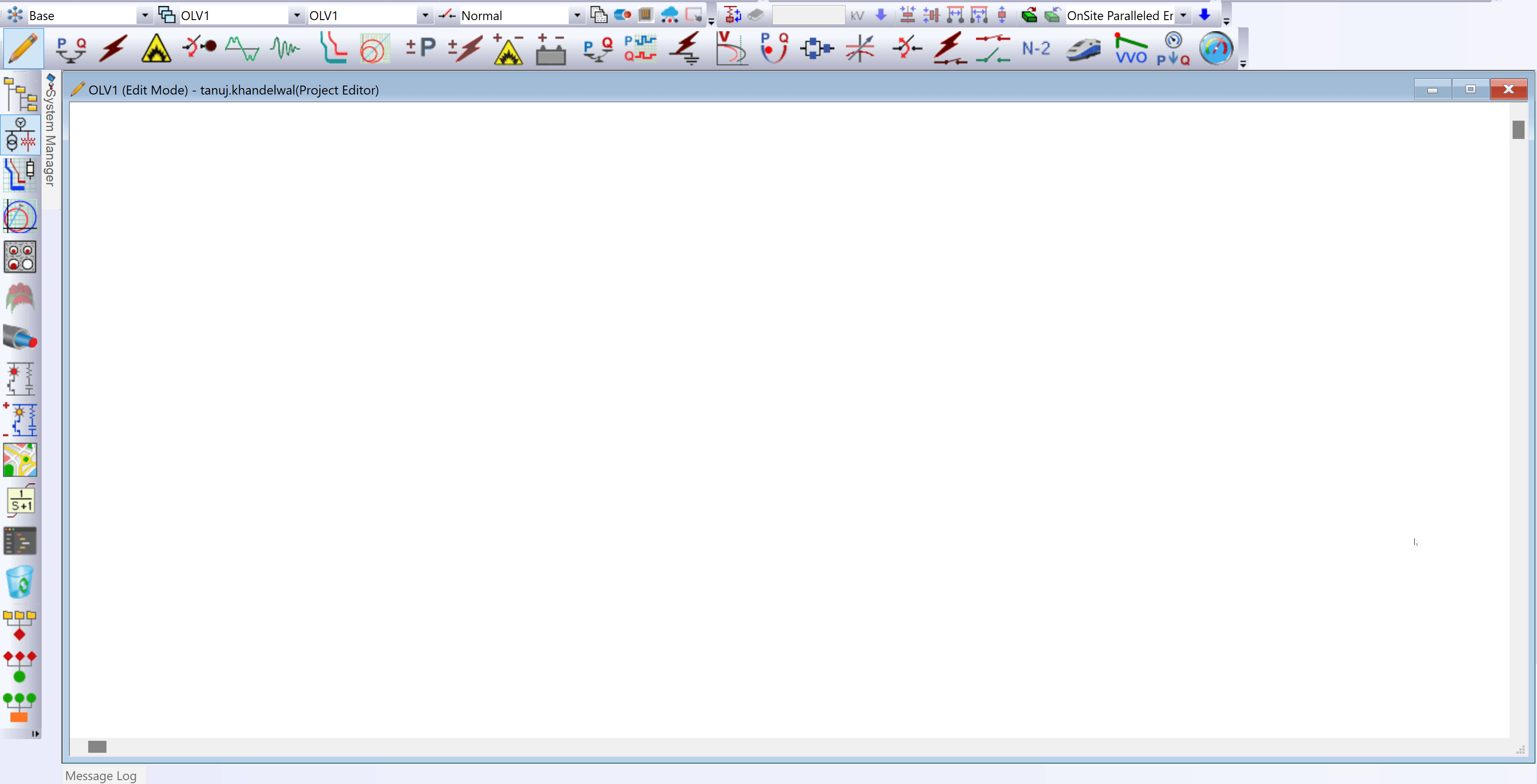 Equipment & Reference Design Templates
Equipment and reference design templates can be created based on existing models and shared with engineering colleagues within your organization ensures faster electrical design generation. Equipment templates can contain dimensioning and protection information or just basic equipment connectivity. Utilize existing templates provided by ETAP or create your own library to ensure quicker delivery of your projects.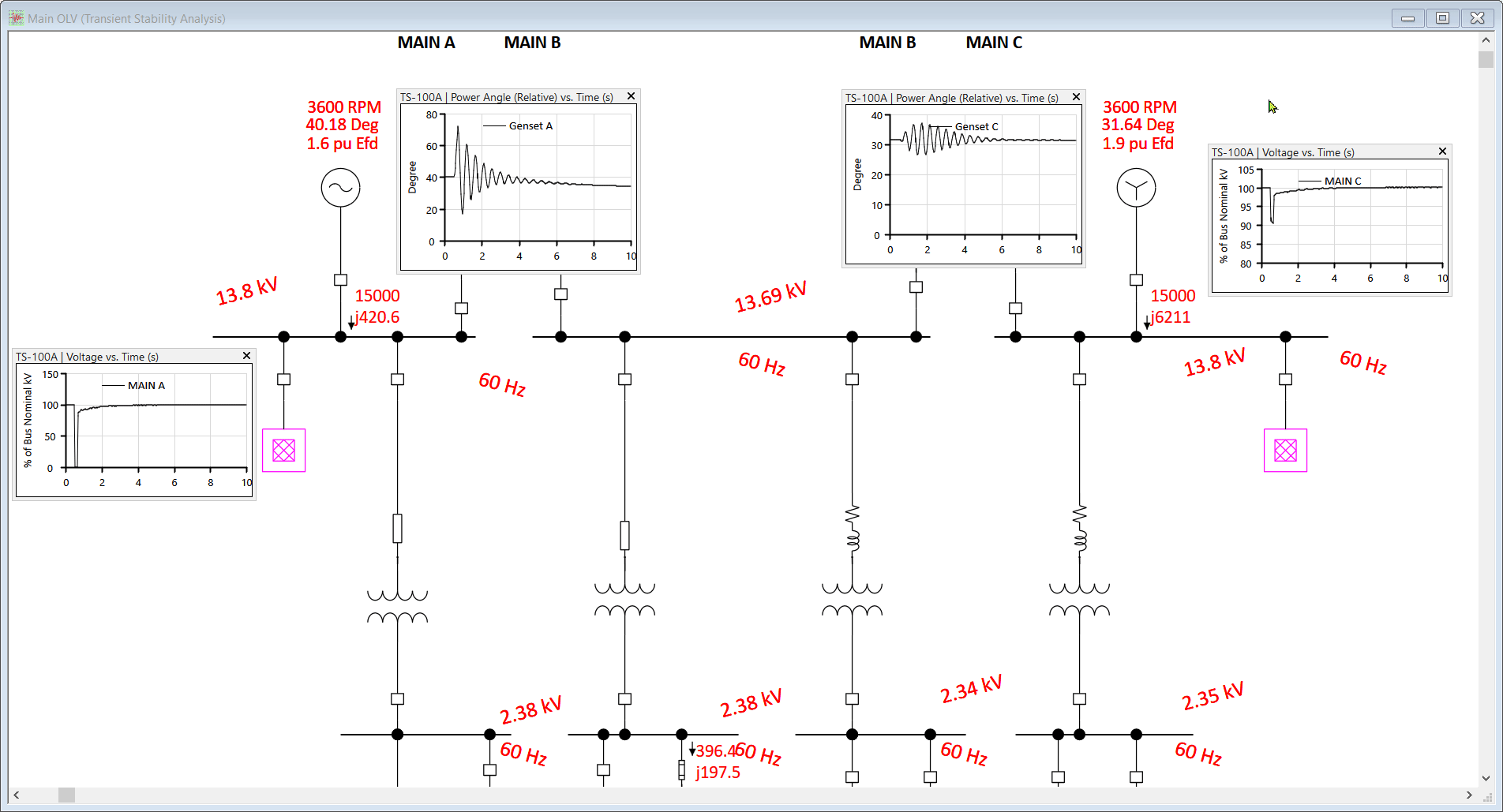 Bring your Analysis to Life on the One-Line Diagram with LivePlots™
PlotView is an advanced all-in-one solution for graphical report creation and data analysis. PlotView utilizes advanced & high-speed frameworks for charting and graphing. With comprehensive design and intuitive interface, users can maximize work productivity and save time comparing, generating, and maintain high-quality plots for their power system studies.
Plot Live Charts and overlay with the previous result
Embed Live Charts on One-Line Diagram
Utilize the new framework with all major ETAP modules
User-configurable plots & settings
Other Features
Built-in intelligent graphics
High-Resolution Graphics
Display of energized & de-energized elements
Hyperlink bookmarks
OLE object integration
Multiple display layers
Region classifications & coloring
Composite Network thumbnails
Circuit tracing - source, load, point-to-point
Synchronized GIS & one-line views
Split bus & remote connections
Service & State Indications
Graphic alert of overstressed devices
MS Excel style data sorting & filtering
Multiple generators & grid connections
Propagation of nominal & rated voltage
Propagation of phase connection
Equipment grounding connection
Keyword-based element search
Orthogonal or diagonal equipment connections
Multiple equipment symbol sets
Unit selection based on equipment sizes
Copy-paste data to multiple existing elements
How to create an Electrical Single-Line Diagram
A brief overview on electrical system modeling and creating a one-line diagram. The single-line diagram (SLD) is a user-friendly interface to create and manage network databases used for schematic electrical network visualization. It is designed to interactively model, monitor, and manage electrical networks as well as execute simulation scenarios and analyze their results in a simple and intuitive manner. Learn how rule-based automated designs significantly reduce the amount of hours spent on building a one-line diagram.
ETAP Auto Build
Auto-Build is a new powerful feature in the ETAP 14 release that provides rule-based automated designs that enable engineers to significantly reduce the amount of hours spent on creating a one-line diagram.
Log in with My ETAP account to request a demo