Motor Acceleration
Motor Starting Analysis Software
ETAP Motor Starting Analysis software enables system planners and engineers to calculate motor acceleration time and analyze the impact of motor starting for various conditions on electrical power systems.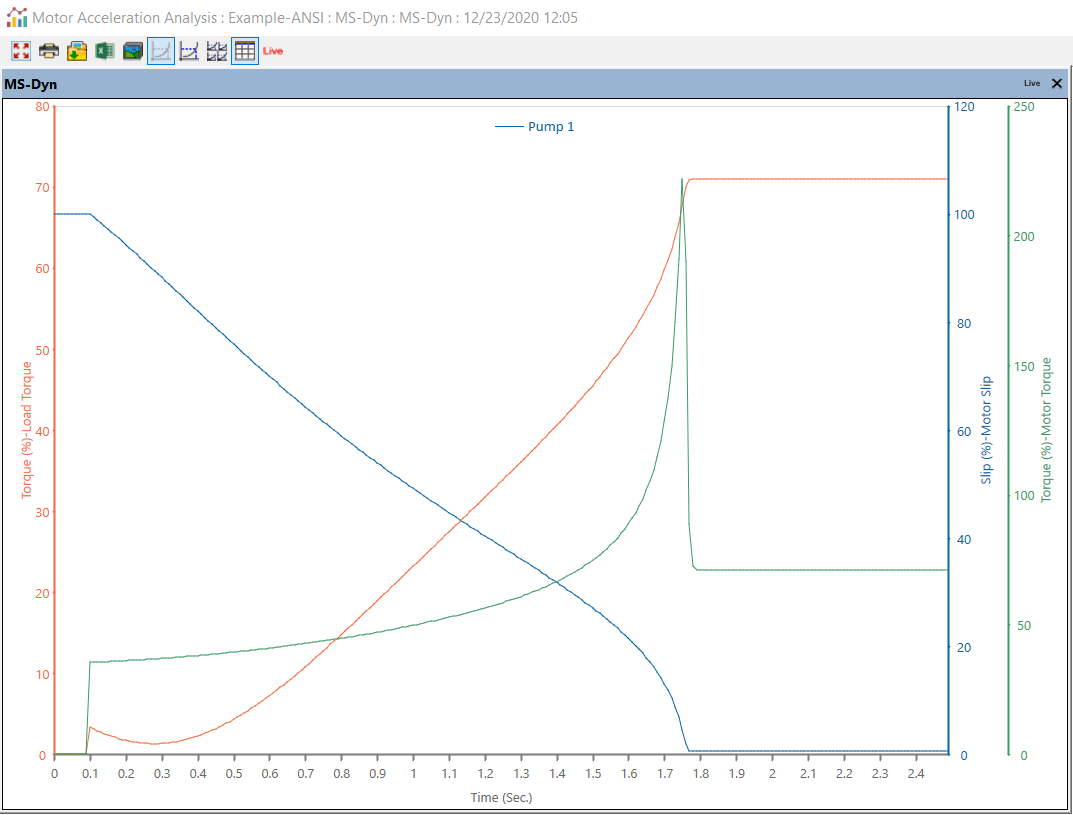 With the Motor Starting software module, you can
Examine effects and find solutions for load impact & voltage flicker
Coordinate the starting sequence of multiple large motors
Evaluate the performance of an entire feeder under the stress of starting motors
Find the worst-case impacts of starting motors anywhere in your system
Motor Starting Software Key Features

Perform Dynamic & Static Analysis
The ETAP motor starting software module provides dynamic analyses explicitly designed to study the effects of starting motors within your system.

Flexible Sequence of Events
The motor starting software is fully capable of starting individual motors or transitioning an entire electrical power system to another state.

Create Detailed Motor Models
Analyses take advantage of a detailed motor model, including torque characteristics, fully considered by load-flow calculations. Sequence-start a series of machines using static or dynamic models. More on Libraries & Modeling

Optimize Motor Starting using Starters
Evaluate and choose appropriate motor staters like VFD and softstarters to minimize network impact. More on Motor Starters

Considers Network Dynamics
Include switching actions of reactive power compensation devices like Regulators, Substation Transformer Load Tap Changers, Switched Capacitor Banks, etc.

Advanced Plotting, Analyzers & Scripting
Advanced plotting and time varying graphical display enable engineers to quickly evaluate results and make decisions. More on Report & Result Validation / Alerts
---
Benefits
A comprehensive view, alert & warning of all starting motors within your system
Helps you reduce unwanted effects
Ability to run multiple analyses on various configurations
Second-by-second data throughout the full starting cycles
Simple settings include basic start delay
Complex methods such as capacitor, VFD and soft starters
Full consideration of factors such as substations, source impedances, and detailed line models
Comprehensive Results & Productivity Features
Graphical Simulation Results – PlotView™

Motor speed and torque vs. time
Motor terminal voltage and current draw vs. time
kW and kvar into service vs. time
Service drop vs. time

Scripted Study Automation

Automated Motor Start Evaluation using Python Scripting
Access Python API to Automate Result Analysis into comprehensive Excel reports

Result Analyzer

Compare multiple Motor Starting conditions & scenarios
Quickly tabulate worst case from multiple motor starter combinations

Plot Analyzer

Visually compare multiple Motor Starting conditions & scenarios with alerts and events
Quickly identify, isolate and share worst case from multiple "what if" conditions