ETAP 16.2 Release is Now Available!
The new release offers Wind Turbine Generator, PV Array, Solar Panel, & HVDC Link as part of the ETAP Base Package
IRVINE, Calif. – October 10, 2017 - ETAP® announces the latest version of its power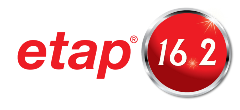 system analysis software, ETAP 16.2. This point release includes several new enhancements and general improvements. It is now easier for ETAP customers to experience the powerful features and capabilities of ETAP's Renewable modules.

The following features are part of the ETAP Base Package configuration:
For a list of all new features and enhancements of this release, visit https://etap.com/software/whats-new
For existing customers, ETAP 16.2 full release can be downloaded from ETAP Help Desk


About ETAP
ETAP is the global market and technology leader in modeling, design, analysis, optimization, monitoring, control, and automation software for electrical power systems. The company has been powering success for over 30 years by providing the most comprehensive and widely-used enterprise solutions for generation, transmission, distribution, industrial, transportation, and low-voltage power systems. Founded in 1986, ETAP is headquartered in Irvine, California, USA, with over 50 offices around the world.
Follow ETAP on LinkedIn, YouTube, Facebook and Twitter
For further information:
(949) 900-1000
pr@etap.com
Certain names and/or logos used in this document may constitute trademarks, service marks, or trade names of ETAP/Operation Technology or other entities.