ETAP Annual Global Conference 2021
Live – Virtual – Free to Attend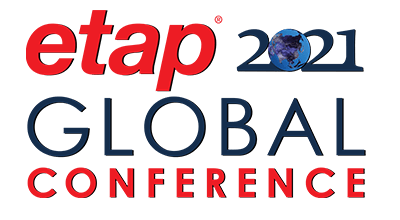 IRVINE, Calif. – January 12, 2021 - ETAP®, the leading provider of intelligent, model-driven power systems solutions invites industry professionals to its Annual ETAP Global Conference, held virtually March 16 - 18.

This year's conference theme Digital Twin Driven Continuous Intelligence, explores the frontiers of digital thinking and allows engineers, owners & operators to discover strategies for a successful digital transformation, integrating design, operation and automation of power systems.

The conference platform provides the opportunity to connect from all over the world, to learn and engage in educational, industry-focused sessions, technical tutorials, case study presentations, & panel discussions.


Highlighted Topics:
Model-Driven Intelligence & Control
SCADA & Power Management System
Advanced Distribution Management System
Operator Training Simulator
Railway Traction Systems
Arc Flash Safety

Renewable Energy Solutions
Asset Management & Automated Fault Analysis
System Protection & Selectivity
Distribution Network Analysis & Planning
Dynamics & Power Quality
Grid Code & Interconnection Studies

In addition to the educational agenda, the Tech Expo & Solution Center features ETAP solutions and innovations from leading industry partners. ETAP Product Experts and Technology Partners will be available for live, face-to-face, solution demonstrations.

ETAP Global User Conference is free to attend and requires registration. Register Here!

To learn about Sponsorship & Exhibit opportunities, please contact: events@etap.com.




About ETAP
ETAP® is the global market and technology leader in modeling, design, analysis, optimization, monitoring, control, and automation software for electrical power systems. The company has been powering success for over 30 years by providing the most comprehensive and widely-used enterprise solutions for generation, transmission, distribution, industrial, transportation, and low-voltage power systems. Founded in 1986, ETAP is headquartered in Irvine, California, USA, with over 50 offices around the world.
For further information:
(949) 900-1000
pr@etap.com
Certain names and/or logos used in this document may constitute trademarks, service marks, or trade names of ETAP/Operation Technology or other entities.