Short Circuit Software ANSI / IEEE Standards C37 & UL 489
ETAP Short Circuit software program allows for short circuit calculations based on ANSI and IEEE standards. In ANSI/IEEE short circuit software program, an equivalent voltage source at the fault location, which equals the prefault voltage at the location, replaces all external voltage sources and machine internal voltage sources.
Three different impedance networks are formed to calculate momentary, interrupting, and steady-state short circuit currents, and corresponding fault current duties for various protective devices. These networks are: ½ cycle network (subtransient network), 1.5-4 cycle network (transient network), and 30 cycle network (steady-state network).

Short Circuit Analysis Software ANSI & IEEE Toolbar
ANSI/IEEE Standards recommend the use of separate R and X networks to calculate X/R values. An X/R ratio is obtained for each individual faulted bus and short circuit current. This X/R ratio is then used to determine the multiplying factor to account for the system DC offset.
---
Featured Highlights
Single-phase & panel systems device duty evaluation
Determine maximum & minimum short circuit fault currents
Calculate ½ cycle, 1.5–4, & 30 cycle balanced & unbalanced faults (3-phase, L-G, L-L, L-L-G)
Check momentary & interrupting device duty capabilities
Check circuit breaker closing & latching capabilities
Evaluate symmetrical or total rated circuit breakers
Special handling of generator circuit breakers for system & generator faults
Interrupting fault current duty as a function of breaker contact parting time
Standard & user-definable contact parting time
Automatically includes No AC Decay (NACD) ratio
User options for automatic adjustment of HVCB rating
HVCB & Bus momentary duty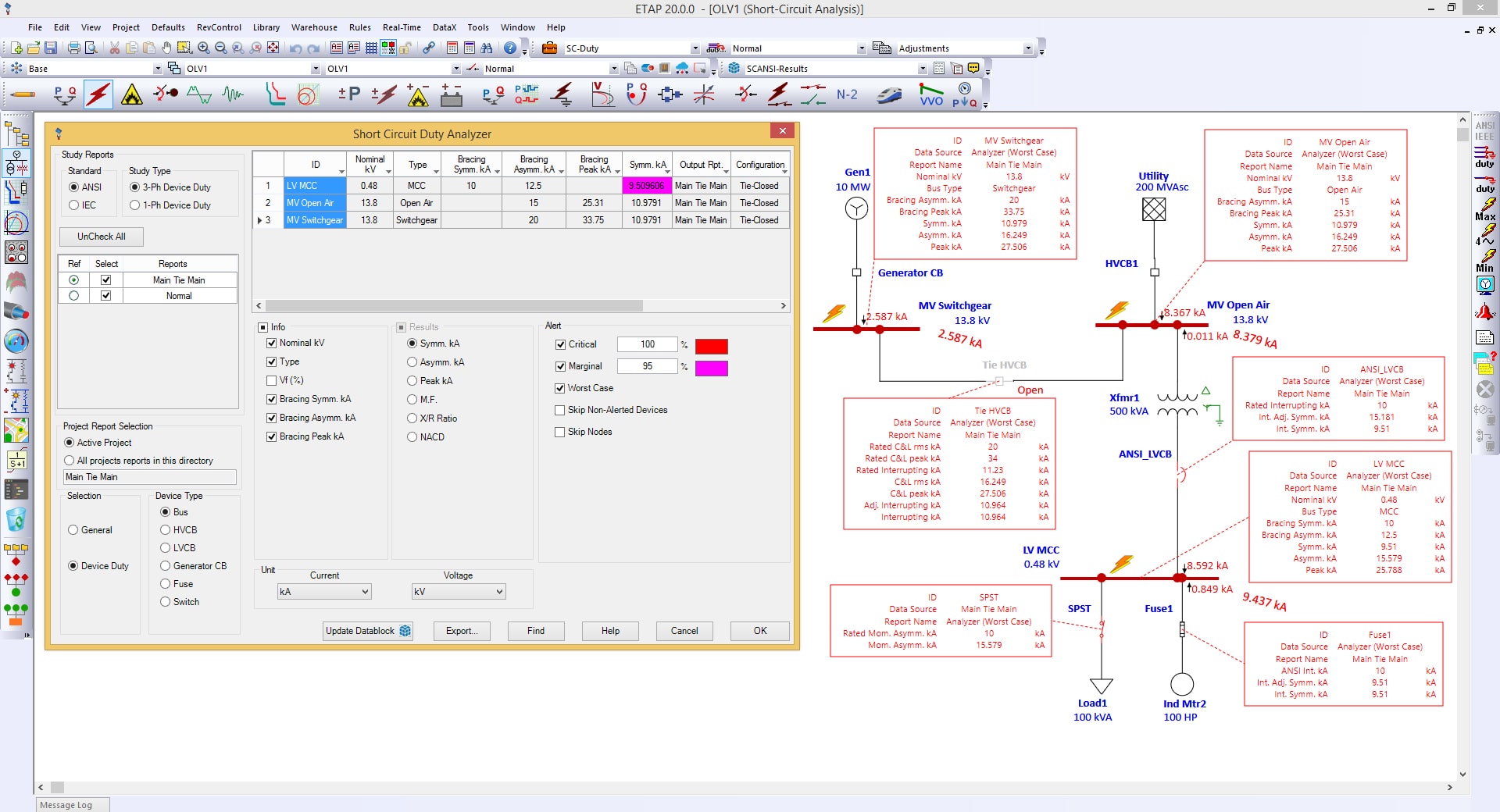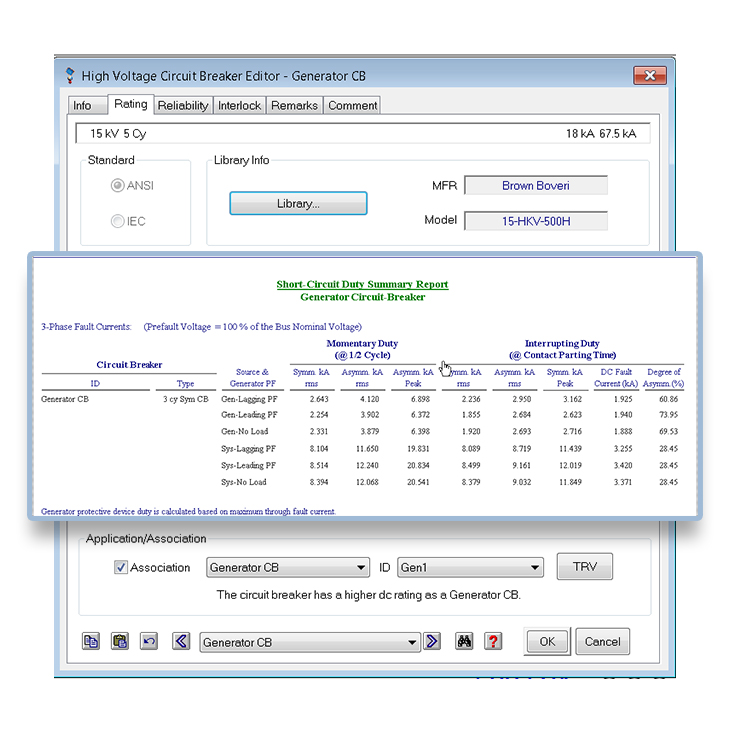 Short Circuit Software Standards
| | |
| --- | --- |
| IEEE C37.04 | Standard Rating Structure for AC High-Voltage Circuit Breakers Rated on a Symmetrical Current including Supplements: IEEE C37.04f, IEEE C37.04g, IEEE C37.04h, IEEE C37.04i |
| IEEE C37.010 | Standard Application Guide for AC High-Voltage Circuit Breakers Rated on a Symmetrical Current |
| IEEE C37.010b | Standard and Emergency Load Current-Carrying Capability |
| IEEE C37.010e | Supplement to IEEE C37.010 |
| IEEE C37.13 | Standard for Low-Voltage AC Power Circuit Breakers Used in Enclosures |
| IEEE C37.013 | Standard for AC High-Voltage Generator Circuit Breakers Rated on a Symmetrical Current Basis |
| IEEE C37.20.1 | Standard for Metal Enclosed Low-Voltage Power Circuit Breaker Switchgear |
| IEEE 399 | IEEE Recommended Practice for Power System Analysis (IEEE Brown Book) |
| IEEE 141 | IEEE Recommended Practice for Electric Power Distribution for Industrial Plants (IEEE Red Book) |
| IEEE 242 | IEEE Recommended Practice for Protection and Coordination of Industrial and Commercial Power Systems (IEEE Buff Book) |
| UL 489_9 | Standard for Safety for Molded-Case Circuit Breakers, Molded-Case Switches, and Circuit Breaker Enclosure |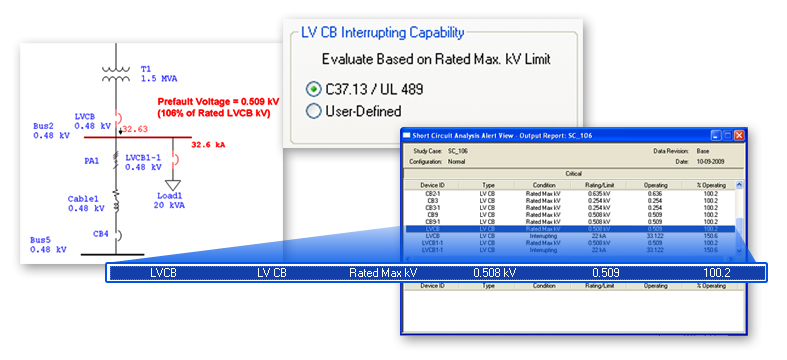 Evaluate LVCB Interrupting Capability Based on Maximum Voltage