Unbalanced Load Flow
Unbalanced Load Flow Analysis
ETAP Distribution Load Flow Analysis module calculates the bus voltages, branch power factors, currents, and power flows throughout the electrical system.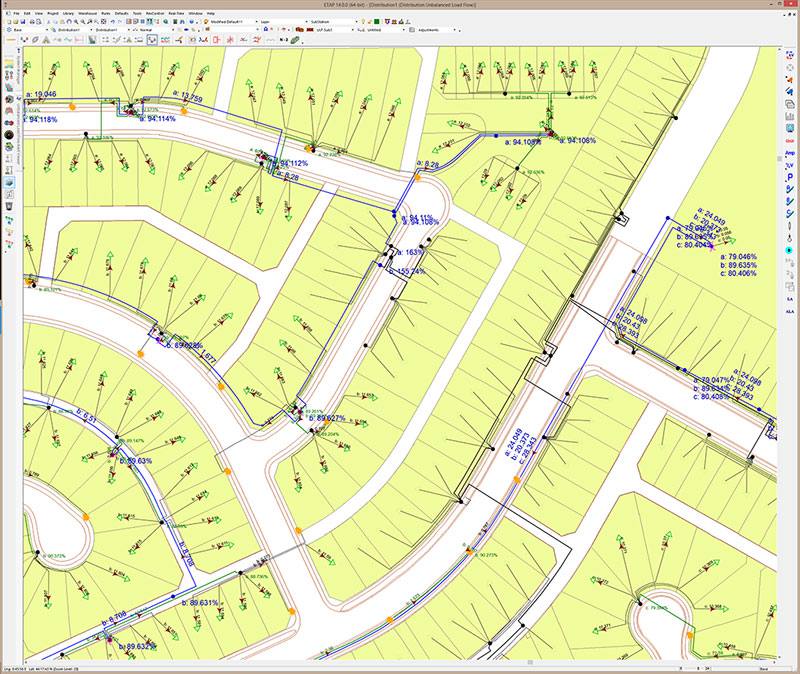 ETAP allows for swing, voltage regulated, and unregulated power sources with multiple power grids and generator connections. It is capable of performing analysis on both radial and loop systems. ETAP allows you to select from several different methods in order to achieve the best calculation efficiency.
Unbalanced Load Flow Software Key Features & Capabilities
Unbalanced power flow using real-time operating data from State Estimation
Machine/transformer various grounding types
Modeling of transformer winding connections
Transmission line coupling between phases of one line & multiple lines
Loads of constant power, constant impedance & constant current
Transformer load tap changers (LTC / regulators)
Swing, voltage regulated, & unregulated power sources
Auto-adjust voltage regulator settings
Current-injection method
Make changes to your system & re-run studies instantly
Conduct unlimited "what-if" studies within one database 100,000+ bus capability
Multi-CPU calculation capability for blazing calculation speeds for complete network
Single-phase & unbalanced 3-phase modeling
Unbalanced & nonlinear load modeling
Phase & sequence voltage, current, & power
Voltage & current unbalance factors
Automatic device evaluation
Machine internal sequence impedances
ETAP and industry experts from the ETAP NUUG, successfully enhanced the ETAP Unbalanced Load Flow module to be able to model and analyze the effects of both single and double open-phase faults.
This presentation will discuss how the recently updated ETAP unbalanced load flow feature has been used for analyzing the effects of an open-phase fault on several TVA nuclear power stations.