ETAP Annual Global Conference 2021 Successfully Delivered
ETAP hosted its first virtual, content-packed global conference, featuring case study presentations, live discussion panels, solution demonstrations & virtual exhibits
IRVINE, Calif. – April 5, 2021 - ETAP®, the leading provider of intelligent, model-driven power systems solutions concluded its annual and first virtual Global Conference with a record sign up of over 4,000 attendees.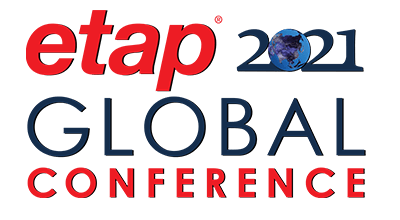 The conference theme "Digital Twin Driven Continuous Intelligence" drew ETAP users, engineers, owners & operators, solution partners and consultants to attend over 70 case studies presentations, live discussions, and 10+ virtual exhibits.
Technical Keynote Speaker Dr. Farrokh Shokooh, ETAP Founder & CEO and Guest Speaker Jean-Pascal Tricoire, Schneider Electric Chairman & CEO, kicked off the event by outlining the future of the Electrical Digital Twin platform, the importance of Smart and Green Technologies, and the recent partnership between ETAP and Schneider Electric.
In addition, the virtual conference platform provided the opportunity to connect with peers, exhibitors and ETAP Engineers and Master Designers from around the globe to learn about and experience ETAP solutions in live demonstrations with topics including:
Model-Driven Intelligence & Control
SCADA & Power Management System
Advanced Distribution Management System
Operator Training Simulator
Railway Traction Systems
Arc Flash Safety

Renewable Energy Solutions
Asset Management & Automated Fault Analysis
System Protection & Selectivity
Distribution Network Analysis & Planning
Dynamics & Power Quality
Grid Code & Interconnection Studies
Presenters from well-renowned companies like ABB, Honeywell, Hyperloop TT, Petronas, TVA, Schneider Electric, and many more showcased projects, demonstrating the utilization of ETAP Solutions in various industries and applications.
To extend the experience, all presentations are available on demand on the ETAP Conference Platform. Simply sign up and register to access the presentations until April 30, 2021. Sign up and register at etap.com/egc2021

About ETAP
etap.com - ETAP® is the global market and technology leader in modeling, design, analysis, optimization, monitoring, control, and automation solutions for electrical power systems. The company has been powering success for over 35 years by providing the most comprehensive and widely-used enterprise solutions for generation, transmission, distribution, industrial, transportation, and low-voltage power systems. Founded in 1986, ETAP is headquartered in Irvine, California, USA, with over 50 offices around the world.
Follow ETAP on LinkedIn, YouTube, Facebook and Twitter.
For further information:
(949) 900-1000
pr@etap.com
Certain names and/or logos used in this document may constitute trademarks, service marks, or trade names of ETAP/Operation Technology or other entities.