Celebrating 35 Years of Powering Success
35th Anniversary of ETAP's Passion for Thinking Power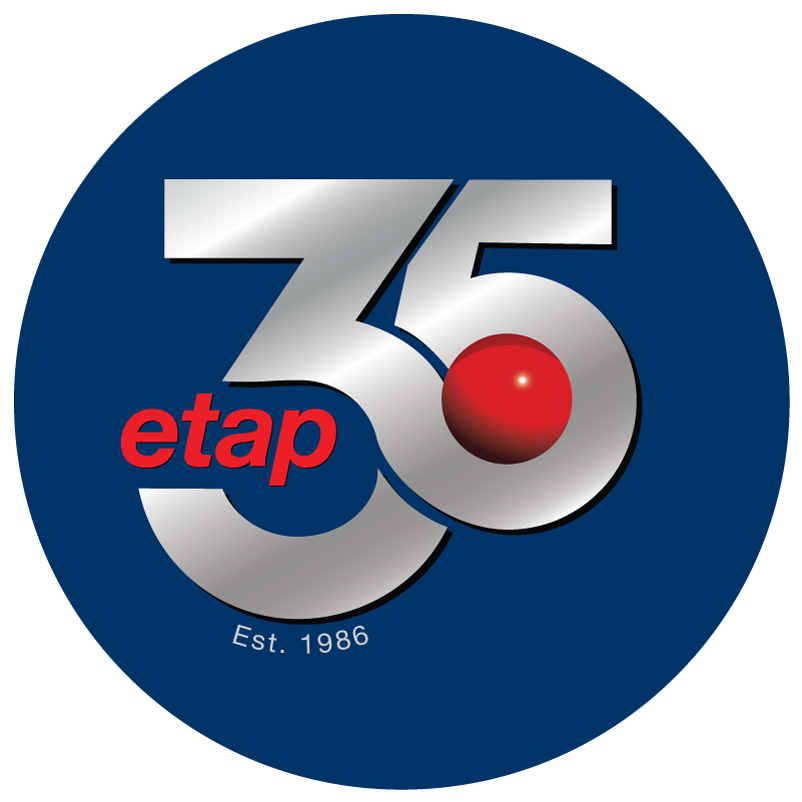 IRVINE, Calif. – February 25, 2021 – ETAP is celebrating its 35th anniversary as the world's leading developer of electrical engineering solutions to model, design, plan, analyze, optimize, control, and automate power systems. From innovations in power system design and analysis software, to pioneering model-driven real-time predictive simulation and power management systems, ETAP has always been a leader in technology.

The digitization and analysis of electrical power systems began with ETAP's first release in 1986. This milestone was soon extended to go beyond an engineering analysis tool to provide an operational blueprint as an integrated electrical engineering and real-time digital twin platform.

Today, ETAP continues its commitment to excellence by pushing the technology boundaries of rule-based design, model-driven predictive simulation with real-time analytics and intelligent controls in every stage of power systems' life cycles, from design and build, to operation and maintenance.

"We are very proud of the company that ETAP has become, and the people – employees, partners, and customers – who make it all possible," said Dr. Farrokh Shokooh, ETAP CEO. "Together, we are changing the electrical power industry… and that industry is changing the world. We are passionate to continue innovating state-of-the-art technologies for the next decade and beyond."
etap.com - ETAP® is the global market and technology leader in modeling, design, analysis, optimization, monitoring, control, and automation software for electrical power systems. The company has been powering success for over 35 years by providing the most comprehensive and widely-used enterprise solutions for generation, transmission, distribution, industrial, transportation, and low-voltage power systems. Founded in 1986, ETAP is headquartered in Irvine, California, USA, with over 50 offices around the world.
For further information:
(949) 900-1000
pr@etap.com
Certain names and/or logos used in this document may constitute trademarks, service marks, or trade names of ETAP/Operation Technology or other entities.