ETAP Automation India Expands ISO 9001 Certification Scope
ETAP Automation India's ISO 9001 Quality Assurance Accredited expands to include engineering library development and ETAP Help Desk technical support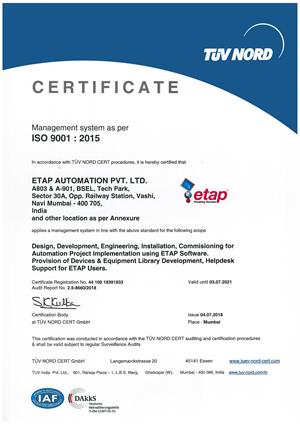 IRVINE, USA / Mumbai, India – August 28, 2018 - ETAP announces its subsidiary ETAP Automation Pvt. Ltd. in India has expanded its quality assurance program for engineering and integration services for ETAP solutions under ISO 9001:2015 accreditation.

The scope of the additional ISO certification includes the provision of device and equipment library development and Help Desk technical support for ETAP users.

ETAP has been ISO 9001 certified since 1998. The compliance to the ISO 9001 standard ensures ETAP's commitment to quality, which covers all activities related to design, development, production, and support of the ETAP software, and to achieve continuous improvement of its quality standards.

ETAP fully understands the significant role that it plays in the industry worldwide. That is why the company undergoes periodic quality system assessments by outside quality assurance professionals, in addition to frequent internal, comprehensive audits and assessments.

For more information about ETAP quality processes and standard compliance visit ETAP QA Standards page
About ISO
ISO 9001:2015 is an international standard requiring process excellence. The certification recognizes organizations that link business objectives with operating effectiveness.
Companies that achieve the management system certification ISO 9001:2015 have demonstrated the effective implementation of documentation and records management, commitment to their customers and the establishment of clear policies, good planning and implementation processes. The certification requires the continuous process of meeting customer and key stakeholders requirements as well as establishing processes of constant improvement of products and services.
About ETAP
ETAP is the global market and technology leader in modeling, design, analysis, optimization, monitoring, control, and automation software for electrical power systems. The company has been powering success for over 30 years by providing the most comprehensive and widely-used enterprise solutions for generation, transmission, distribution, industrial, transportation, and low-voltage power systems. Founded in 1986, ETAP is headquartered in Irvine, California, USA, with over 50 offices around the world.
Follow ETAP on LinkedIn, YouTube, Facebook and Twitter
For further information:
(949) 900-1000
Certain names and/or logos used in this document may constitute trademarks, service marks, or trade names of ETAP/Operation Technology or other entities.