Frost & Sullivan elects ETAP "Company of the Year 2021"
GCC Electrical Power System Analysis & Optimization Industry
Excellence in Best Practices
IRVINE, Calif. – June 10, 2021 – ETAP Automation DMCC, the regional ETAP office for the Middle East and North African (MENA) region, was recognized by Frost & Sullivan with the "Company of the Year 2021" award in the electrical power system analysis and optimization industry.
F&S identified and evaluated companies located in the Gulf Cooperation Council (GCC) region and their impact on the generation industry based on three strategic imperatives:
New business models
Disruptive technologies
Transformative mega trends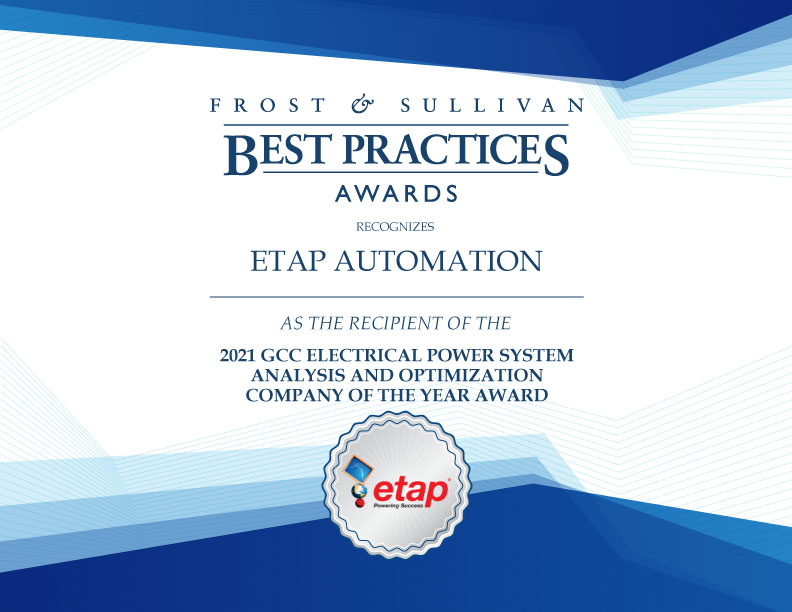 ETAP has not only overcome the challenges posed by these imperatives but leveraged them with technological leadership, commitment to quality and unmatched customer support. The dominance in major markets and the ongoing customers' need to optimize their power networks and integrate renewable generation make ETAP the clear market leader.
In the early 2000s, ETAP evaluated the escalating energy demand in the GCC, and established its regional headquarters in Dubai in 2010. Today, a 7% annual increase in average electricity consumption is predicted in the region by 2030, and ETAP is well-established to support this fast-growing market. The regional ETAP office currently employs 50 power system analysis engineers, consultants, and sales staff to provide design, engineering, training, and sales support to the new and existing customers in the region. ETAP is the only company in the power system analysis and optimization space with a physical presence in the MENA region.
In addition, ETAP is the only commercially available, nuclear-certified, high-impact power system analysis, operational planning, and optimization software provider. Over 93% of United States nuclear power plants have standardized on ETAP, and the world's first Arabian nuclear power plant in Barakh, UAE, the Emirates Nuclear Energy Corporation utilized ETAP for its complete power systems studies, protection, and analysis, which went online in August 2020.
"We are proud to have won the "Best Practices Company of the Year" award in the electrical power system analysis and optimization industry. This award validates our strategy of delivering Digital Twin based solutions to our customers. At ETAP, we are driving innovation in power system analysis and optimization using a unified digital-twin model, analytical intelligence, and machine learning processes to support the growing needs of power systems across all industries in MENA & global to assure safe, reliable, and resilient operations for our customers. With our dedicated Centre of Excellence in Dubai, ETAP offers innovation across many areas, including co-engagement environments for our clients."


Hossain Shaikh, SVP & Global Director at ETAP



ETAP has continuously added new and innovative capabilities to its technology and services over the last 35 years. The company dedicates 75% of its operating budget to R&D, with 90% of ETAP's product features originate from customer feedback and requests.
For more information, download full report: ETAP "Best Company of the Year" Award
About ETAPetap.com - ETAP® is the global market and technology leader in modeling, design, analysis, optimization, monitoring, control, and automation solutions for electrical power systems. The company has been powering success for over 35 years by providing the most comprehensive and widely-used enterprise solutions for generation, transmission, distribution, industrial, transportation, and low-voltage power systems. Founded in 1986, ETAP is headquartered in Irvine, California, USA, with over 50 offices around the world.