ETAP Releases Version 19.5
Design to Operation & Operation to Optimal Design
IRVINE, Calif. – November 14, 2019 - ETAP®, the leading provider of intelligent model-driven power systems solution from design to operation, announces the release of ETAP 19.5, the latest version in the ETAP 19 Series.
The latest ETAP release offers an impressive new set of integrated power analysis modules, electrical safety capabilities, and operational compliance solutions to serve the needs of generation, transmission, distribution, industrial, transportation, data centers, and low-voltage industries.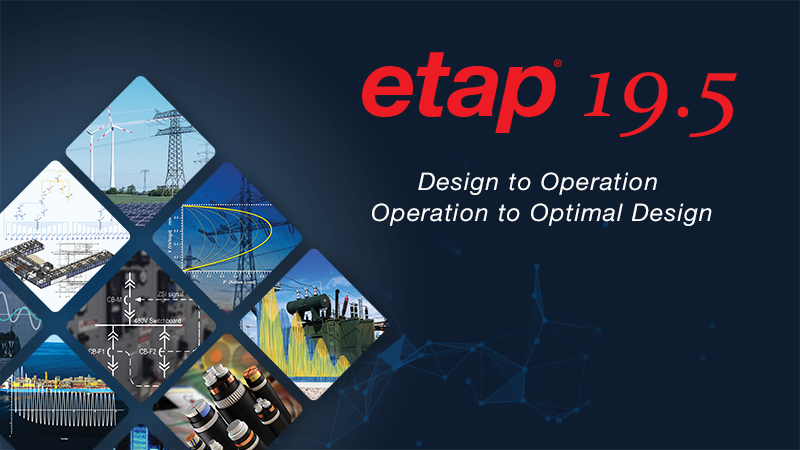 New Design Solutions
Voltage Stability - Voltage Security Analysis & Loadability Limits
Grid Code Compliance - Fast & Automated Harmonic Compliance Studies
Zone Selective Interlock - Arc Flash, Protection & Selectivity Evaluation
Arc Flash Energy Boundary Curve - Constant Energy Line & Area TCC Plots
IEC 61363 Device Duty Evaluation - Transient Short Circuit for Marine Units
Transformer Inrush - Energization Study & Impact Analysis
New Operation Solutions
eProtect™ - Centralized Web-Based Protection & Asset Management
eOTS - Operator Training Simulator
Power Plant Control - Model-Driven Power Plant Controller
Advanced Fault Analysis System - Accurate Fault Location & Outage Management
Learn more about other Major Feature & Capabilities at
https://etap.com/19.5
ETAP 19.5 is available for download from
ETAP Help Desk
. New customers and users with lapsed licenses should contact
sales@etap.com
for more information and pricing or request an online quote at
etap.com/request-pricing
About ETAP
ETAP is the global market and technology leader in modeling, design, analysis, optimization, monitoring, control, and automation software for electrical power systems. The company has been powering success for over 30 years by providing the most comprehensive and widely-used enterprise solutions for generation, transmission, distribution, industrial, transportation, and low-voltage power systems. Founded in 1986, ETAP is headquartered in Irvine, California, USA, with over 50 offices around the world.
Follow ETAP on LinkedIn, YouTube, Facebook and Twitter
For further information:
(949) 900-1000
pr@etap.com
Certain names and/or logos used in this document may constitute trademarks, service marks, or trade names of ETAP/Operation Technology or other entities.