ETAP Launches etap iCE™- Intelligent Control Enterprise Hardware Platform
ETAP introduces a Programmable Control and Remote Terminal Unit (RTU) hardware platform integrated with ETAP Real-Time™ Management System
IRVINE, Calif. – May 22, 2018 - ETAP® is pleased to announce the commercial release of its etap iCE™ Intelligent Control Enterprise hardware product line. etap iCE is a scalable programmable controller, Remote Terminal Unit (RTU), and Feeder RTU (FRTU).

etap iCE is a logical and integral addition to the ETAP Real-Time™ Power Ecosystem by providing a secure, reliable and turn-key model-driven SCADA, Distribution Management System, Power Management System, Substation Automation, Microgrid Automation & Control, and Distribution Load Shedding System.

Verified and validated as part of ETAP solutions, etap iCE fault-tolerant hardware has successfully passed factory, field, and market testing to deliver optimal performance, fast response, and security.
Featuring wireless communication, cybersecurity compliance, automation logic programing, and time synchronization, ETAP iCE offers many key advantages: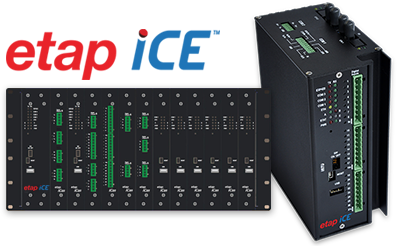 Modular and flexible design
Cost effective and affordable
Standardized with ETAP Real-Time applications
Compliance with international standards
High performance and availability
Built-in redundancy
etap iCE supports and complies with a variety of device communication protocols including IEC 60870-5, IEC 61850 MMS / GOOSE, DNP3.0 Serial / TCP, Modbus RTU / TCP, Profibus DP, Procome, DLMS, and SNMP.
The latest RTU and Substation Automation models offered by ETAP include:
iCE-RTU - Remote telecontrol unit for HV / MV facilities
iCE-GW - Communication gateway for control protocols
iCE19 - 19" Rack Mount RTU / Controller
For more information about etapiCE visit etap.com/etapiCE
About ETAP
ETAP is the global market and technology leader in modeling, design, analysis, optimization, monitoring, control, and automation software for electrical power systems. The company has been powering success for over 30 years by providing the most comprehensive and widely-used enterprise solutions for generation, transmission, distribution, industrial, transportation, and low-voltage power systems. Founded in 1986, ETAP is headquartered in Irvine, California, USA, with over 50 offices around the world.
Follow ETAP on LinkedIn, YouTube, Facebook and Twitter
For further information:
(949) 900-1000
pr@etap.com
Certain names and/or logos used in this document may constitute trademarks, service marks, or trade names of ETAP/Operation Technology or other entities.