ETAP 18 Release - Available Now
ETAP's most innovative power system analysis & operation solution to date
IRVINE, Calif. – May 7, 2018 - ETAP® today announced the release of its anticipated and most comprehensive version, ETAP 18.0. This release includes new products, thousands of new features and enhancements as well as updates based on the latest industry standards and guidelines. This game-changing release brings together innovative power system solutions for faster modeling, expanded analysis, and intelligent operation: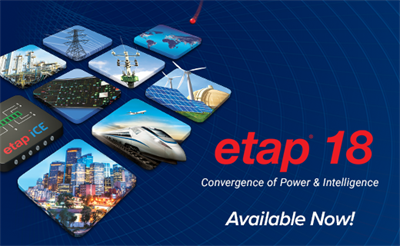 Intelligent System Modeling & Network Management
Advanced Power System Analysis Modules
Innovative Power Management & Automation Solutions
Latest Data Exchange & Interface Tools
For a detailed list of the new features and enhancements, visit
etap.com/18
New Products
etap iCE™ Intelligent Control & Remote Terminal Unit hardware
etapApp™ Intelligent mobile app for data collection & synchronization
Available as free download from Microsoft® & Apple® App store
eTraX™ AC & DC railway power analysis for traction & signaling systems
New Modules
StarZ™ T&D Protection & Coordination - distance relay, scheme logic, sliding fault
ArcFault™ High Voltage Arc Flash analysis for systems up to 800 kV - LG, LL, 3-phase
TDLF Time Domain Load Flow - AC & DC, time series
DataX™ Data Exchange - Revit®, ArcGIS®, MultiSpeak®, CIM
Major Solution Updates
ADMS™ Advanced Distribution Management System
ETAP-RT™ Power System Monitoring & Control
eSCADA™ Model-Driven Electrical SCADA solution
Renewable & Microgrid New renewable energy models for simulation, grid interconnection studies and field verification of wind and solar farms
Intelligent synchronized network views Geospatial diagram, Substation, and Feeder views
EMTP - Electromagnetic Transient Program interface with PSCAD® and EMTP-RV
"ETAP 18 is the most comprehensive release in our company's history with three brand new products, ten new modules, hundreds of new elements and device libraries, over 1000 enhancements and feature updates, and more than 500,000 man-hours of R&D" states Farrokh Shokooh, ETAP President & CEO "This release puts ETAP's technology innovations right at your fingertips by offering intelligent power system analysis and operation solutions to address the latest needs of all the industry that we serve."

The ETAP 18 is now available for customers to download from ETAP HelpDesk. New customers contact sales@etap.com for more information and pricing.

About ETAP
ETAP is the global market and technology leader in modeling, design, analysis, optimization, monitoring, control, and automation software for electrical power systems. The company has been powering success for over 30 years by providing the most comprehensive and widely-used enterprise solutions for generation, transmission, distribution, industrial, transportation, and low-voltage power systems. Founded in 1986, ETAP is headquartered in Irvine, California, USA, with over 50 offices around the world.
Follow ETAP on LinkedIn, YouTube, Facebook and Twitter
For further information:
(949) 900-1000
pr@etap.com
Certain names and/or logos used in this document may constitute trademarks, service marks, or trade names of ETAP/Operation Technology or other entities.