Arc Flash Auto-Evaluation
Automated Arc Flash Energy Evaluation
When performing protection and coordination studies it is difficult to anticipate potential arc flash coordination issues due to the differences between the arc and bolted fault currents. Arc Flash Auto solution automatically evaluates arc-flash incident energy and equipment arc flash damage points to quickly resolve these conflicts limiting the number of scenarios required or even removing the need for an isolated arc flash study.
Automated Arc Flash Evaluation
Risk analysis based on multiple operating conditions and current variations
Automated arc flash energy evaluation based on

Constant Energy Boundary Area (C-area plots) – Patent Pending
Arc Energy Damage Point – Arc-Resistant Switchgear
(IEEE C37.20.7)

Automatically evaluate line, bus and load-side faults
Tabular & Graphical Evaluation with warnings & alerts
Arc Flash Evaluation Rulebook
Individual & Global Data Evaluation Criteria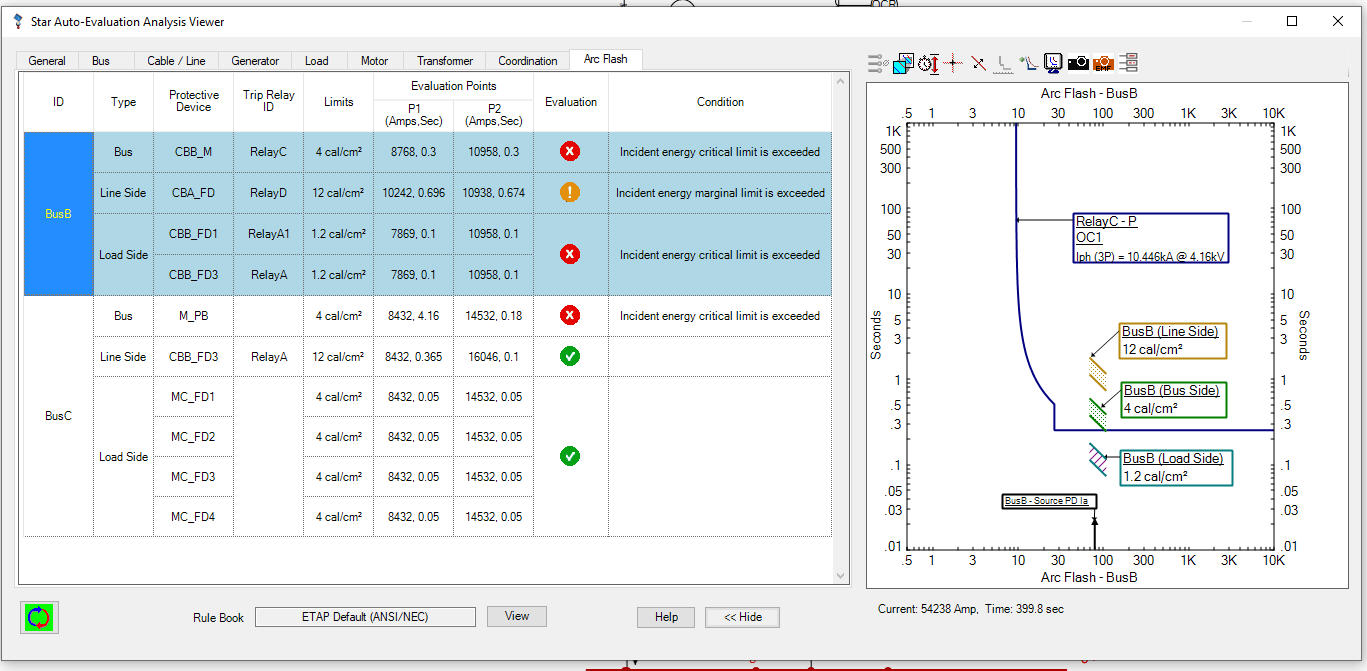 Arc Flash Auto-Evaluation Capabilities
Interactive Result Viewer
Visual representation of variations in TCC per location
Graphical representation of Incident energy area plots in TCC
C-Area plot input data display in OLV with Datablocks
Global Filters for Special Conditions -
New IEEE 1584-2018 2kA, 240V Rule
Automatically Update Max & Min Short-Circuit Currents for Evaluation
Account for Equipment Isolation & Overcurrent Protective Device Tolerances
User-defined variation limits
Export evaluation results to MS Excel reports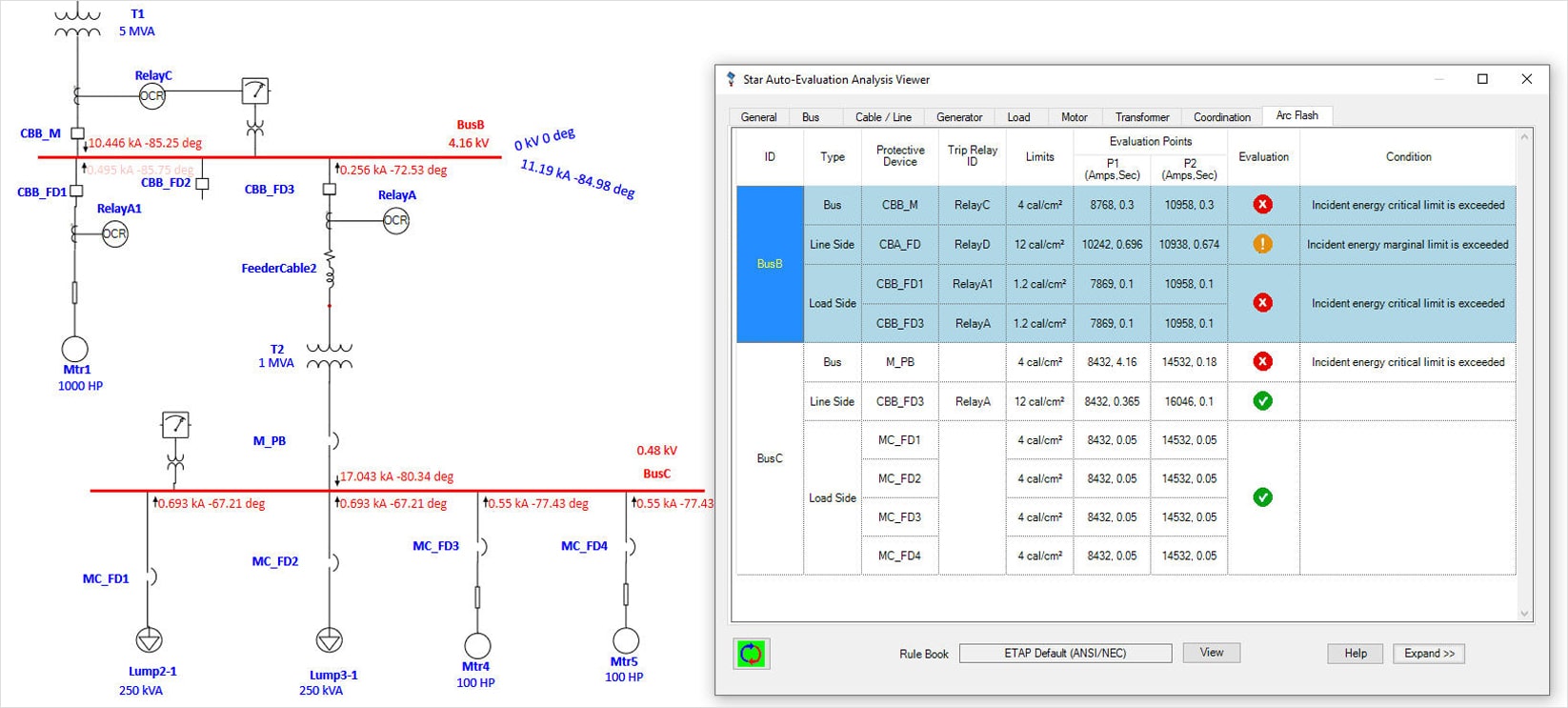 Incident Energy Visualization on Time Current Curves (TCC)
Constant energy boundary area plots
ETAP constant energy boundary area (C-area plots) based on the IEEE 1584 2018 model can mitigate the arc flash results at the coordination stage. This graphical representation provides a reference boundary based on user-defined incident energy limit. It allows a protection engineer to consider multiple operating conditions and probabilistic variations in the way an arc-flash could occur within an electrical equipment.
Incident Energy Visualization Features
Constant incident energy design levels per location
Arc current variation
Multiple electrode configurations
Variation based on system modes of operation:

Bus voltage
Maximum and minimum prospective short circuit currents

Equipment variations:

Gap between the conductors
Height
Width
Depth
Working distance
Global sample data updates based on equipment type and voltage.
Individual data sets per location (Bus, line side and load side).
Quick Copy/Paste sample data
User-defined variation limits
Visual representation of variations in TCC per location
Graphical representation of Incident energy area plots in TCC
C-Area plots for single phase arc flash below panels , UPS , phase adapters
C-Area plot input data display in OLV with Datablocks