TVA Saves $12.8 Million in System Upgrade Costs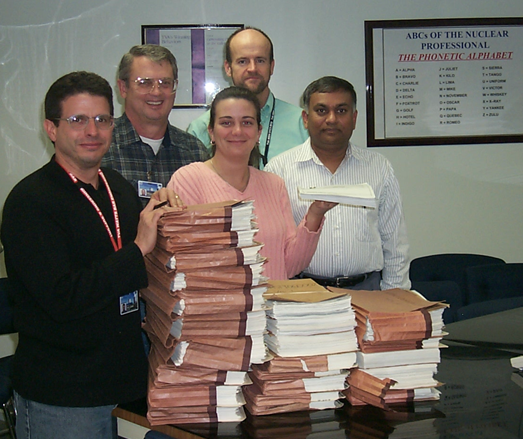 Over 10,000 pages of electrical calculations are superceded by an ETAP study report of only 81 pages held by Tamatha Reed. Pictured Left to right: Julio Gomez, Dennis Lashley, Tamatha Reed, Ron Cox, and Govind Patel.
When Julio Gomez came to WBN to supervise the Electrical Design Section in 1995, he realized one of his challenges had to be the consolidation and upgrade of the Electrical Power System calculations. The perseverance and hard work of Site Engineering's Dennis Lashley and Ron Cox, and Corporate Engineering's Jerry Nicely, Tamatha Reed and Govind Patel has recently paid off when, on Friday, 1/12/2001 the Electrical Engineering team issued the WBN auxiliary power system calculations utilizing the Electrical Transient Analysis Program (ETAP). As noted in the attached photograph, this one ETAP-based calculation being held by Tamatha Reed replaces all of the calculations shown on the table. In addition to the large paper reduction, the ETAP analysis technique provided better analysis capabilities for developing the WBN degraded voltage requirements, which in turn will provide Transmission Power Supply relaxed grid interface requirements to WBN. This relaxation will postpone current projections for TPS to install capacitor banks for Watts Bar Nuclear Plant (a savings of 3.4 million dollars) and/or construct a new 161 kV transmission line between Rockwood and Harriman (a savings of 9.4 million dollars). All individuals collaborating on this project should be commended including those from WBN Site Engineering, Corporate Engineering and Transmission Power Supply.

Prior to using ETAP, TVA WBN was forced to maintain several databases for their system. This cumbersome task was further complicated with the need to control and validate the data for the purpose of performing calculations. The program that was previously used to perform power system studies lacked the intelligence and capabilities to provide secure and acceptable results. Using ETAP's innovative 3-D database technology, TVA WBN has combined all of their independent system data into one integrated, controlled, and detailed database for the purpose of conducting various types of power system analysis. The savings in documentation and upgrade costs would not be possible without the hard work and dedication of TVA engineers and the reliable calculation results from ETAP. Watts Bar News
About Tennessee Valley Authority (TVA)
Tennessee Valley Authority is a unique federal corporation that is America's largest public power company, the steward of the Tennessee River system, and a regional economic development agency. TVA is a world leader in energy technology—a $6.6 billion, self-supporting federal corporation. It's America's largest public power producer, manager of the nation's fifth-largest river system, and an international leader in environmental research. TVA's power facilities include 11 fossil plants, 29 hydroelectric dams, three nuclear plants, four combustion-turbine plants, a pumped-storage facility, and 17,000 miles of transmission lines. For more information, visit www.tva.gov.