Short Circuit
IEC 61363
Standard
ETAP Short Circuit Analysis complies with IEC 61363 standard, required for electrical installations on ships or mobile and fixed offshore units. It includes pre-fault loading conditions using load-flow analysis to calculate short circuit currents precisely along with detailed device duty reports and OLV alerts.
Key Features
Transient short circuit calculations using IEC 61363
Include pre-fault loading conditions using load-flow analysis to perform short circuit analysis
User-definable voltage c factor
Compares protective device ratings with calculated short-circuit values
Enhanced short circuit analyzer compatible to device duty ratings based on IEC 61363 with alerts
Select worst-case device duty among multiple reports

Detailed IEC 61363 device duty reports & OLV alerts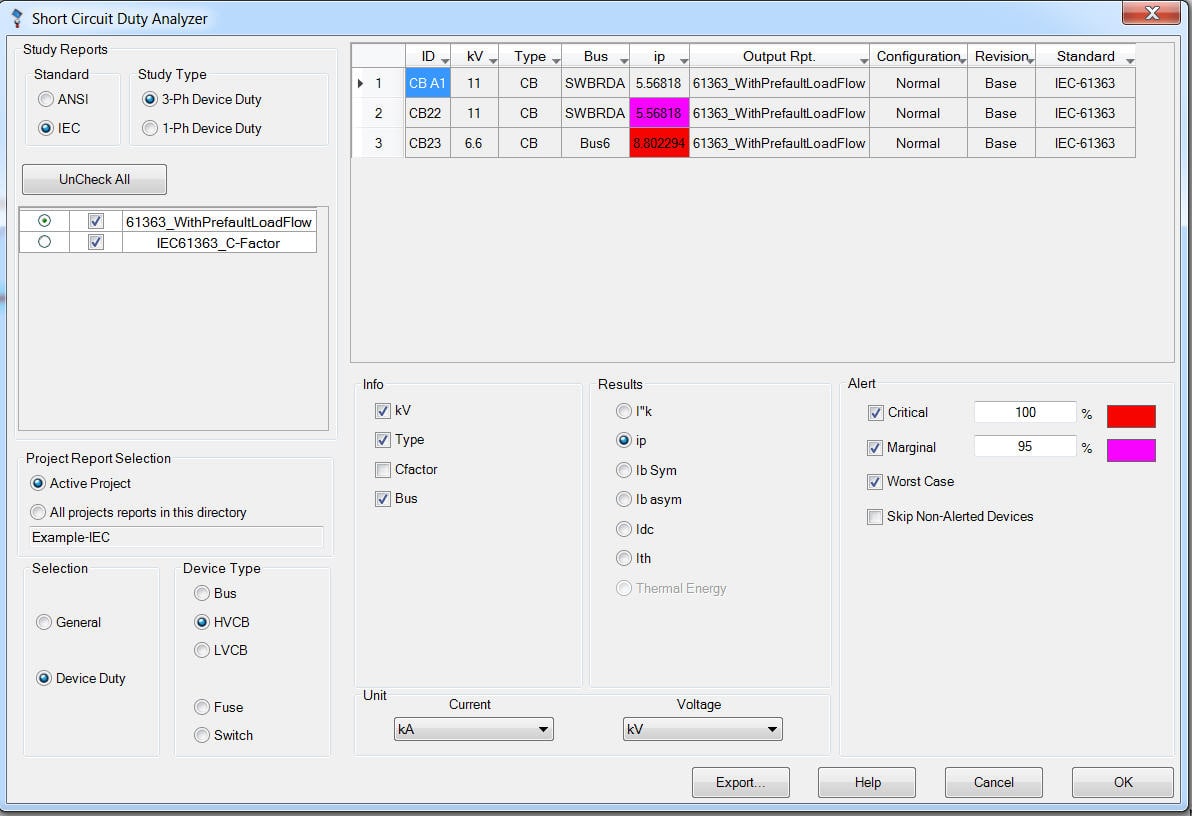 Interactive Plots
Graphical plots

Generates relay test set compatible plots for transient short circuits
Graphical plot representations for all three-phases for project frequency
Three phase plots for Idc, iac (RMS), ip

Display datablock device duty results on the one-line diagram.
---
IEC 62271-100
High-Voltage Switchgear and Controlgear, Part 100:High-Voltage Alternating-Current Circuit Breakers
IEC 62271-200
High-Voltage Switchgear and Controlgear, Part 200: AC Metal-Enclosed Switchgear and Controlgear for Rated Voltages
Above 1 kV and up to and including 52 kV
IEC 62271-203
High-Voltage Switchgear and Controlgear, Part 203: Gas-Insulated Metal-Enclosed Switchgear for Rated Voltages Above 52 kV
IEC 60282-2
High-Voltage Fuses, Part 2: Expulsion Fuses
IEC 60909-0
Short Circuit Currents in Three-Phase AC Systems, Part 0: Calculation of Currents Edition 2.0 2016-01
IEC 60909-1
Short Circuit Currents in Three-Phase AC Systems, Part 1: Factors for the Calculation of Short Circuit Currents According to IEC 60909-0
IEC 60909-2
Electrical Equipment – Data for Short Circuit Current Calculations in Accordance with IEC 909
IEC 60909-4
Short Circuit Currents in Three-Phase AC Systems, Part 4: Examples for the Calculation of Short Circuit Currents
IEC 60947-1
Low Voltage Switchgear and Controlgear, Part 1: General Rules
IEC 60947-2
Low Voltage Switchgear and Controlgear, Part 2: Circuit Breakers
IEC 61363-1
Electrical Installations of Ships and Mobile and Fixed Offshore Units, Part 1: Procedures for Calculating Short Circuit Currents in Three-Phase AC
IEC 60781
Application guide for calculation of short circuit currents in low-voltage radial systems